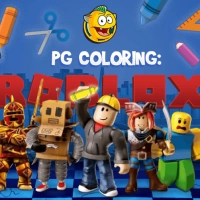 Roblox
Roblox is not an individual game. Neither it's a predefined set of games nor an installment/series/batch/line/another type of collection of them. Roblox is an engine and an entire gaming universe, which was developed by the Roblox Corporation, which allows people all over the world to create their own games and publish them through a special interface in the space of Roblox.
After publication, these games can be effectively found on the gaming server and played by anyone interested. Since there are over 20,000,000 games published each year (!!!), we did not have another option but to create a specific page dedicated to these games on our free online web server, which is accessible nearly to anyone on planet Earth. The only thing you need to have to access our wonderful games is to have a stable Internet connection and a supported device of one of these types (preferably, not more than 5 years of oldness):
• Gaming console
• Personal computer
• Tablet
• Laptop
• Smartphone working on iOS/Android.
Description of the company-developer
The corporation that's responsible for the creation of Roblox was founded in 2004, so, in 2024, it celebrates its 20th anniversary. Its headquarters is located in California, the US. It owns a number of digital products in addition to the gaming engine described on this web page (but none of them is as revenue-generating as this one).
For a long time in its history, the size of the company was humble, the same as the number of its employees and revenue. A vivid growth began in the late 2010s and accelerated in the Covid period (2019-2022) when people all over the world were locked in their homes and had to find kinds of online entertainment for themselves. That, particularly, was a great time for the rise of the popularity not only of this company but also many other things in the offline and online worlds. One of the most prominent examples of such online growth is the game Among Us, which amassed tremendous popularity exactly because of the lockdown (it remained unknown for years after its release until one day, it was discovered by the online community as a means of socialization and entertainment).
The initial release of Roblox for the public was in 2006. They came out with very few games available for playing (around 15 or so), each of which was hand-picked. Now, the company grew to over 2,000 employees but even that number won't give it the possibility to effectively control and inspect all the games that are being released on an annual basis. Surely: if there are 20+ million of them, the company would have to have around a hundred thousand people only in the control department, which will never happen.
The company has been changing its logo relatively frequently since its establishment date. The one gamers know — the black and white option with a slightly turned second letter 'O' that's made as a square — is a relatively recent change, which was introduced in 2018. We're sure that it will take another year or two for the company to create another logo (based on the frequency of changes in its history).
Along with the logo, the company was actively developing its gaming universe and used approaches. For instance, it has been changing the internal chat to make it safer and more appropriate for various audiences. As of today, there is a similarity of chat with a white list of words and combinations to be used by minors (under 13) and a blacklist of those for older audiences. That's just one example of the evolution process of the company — there were tons of others in the course of its development, including the acquisition of other companies to expand.
Today, this company heavily focuses on its internal gaming and social universe, having made it a place, where people would not simply log in to play and develop games but also hang out and chill with their friends and peers. Thus, the company hosts various online virtual events, including congresses, music concerts, media events, and award ceremonies. It also has a number of special invite-only events for game designers and other interested persons to introduce to them the platform changes and various novelties.
Description of games and their nature
The biggest attraction for gamers of the considered gaming universe is the possibility to create their own games without deep knowledge of regular things inherent to the game industry:
• coding
• design
• testing
• bug-fixing
• scaling, etc.
Everything is created using a special programming language, which requires little to no skills and knowledge because it is made super easy for everyone, even children. And that is the main driving power behind the company's progress — nearly all games and in-game features & items are produced by children under 18 (a large portion of them is even made by kids of 13 and under). What's interesting about the user statistic is that around 50% of all teenagers in the USA are active users of Roblox and either play games or make them for money.
Yes, the money. Although there is no direct connection between the game-making and earning money (because this is not an official day job), any creator of a game can potentially earn on their brainchildren, making:
• games
• gaming items
• gaming features
• gaming designs.
Although the overwhelming part of Roblox games is free-to-play, just like we have on our web server, there is still a possibility to sell access to games as one-time purchases, to everyone interested. If a game is delivered as a free piece of entertainment, then it might have a possibility to make in-game purchases of items, gaming progress boosts, or cosmetic features to improve the appearance of playable characters.
Such purchases are called here microtransactions and the major part of all featured games has this function. Some purchases give unique items or features, which cannot be acquired otherwise through regular gameplay while other in-game achievements might be acquired normally (for no money) but would require significant time to be spent playing. That's a completely normal practice in the gaming world (if you didn't know). But that differs quite a lot from our approach to publishing games: we only have those, which are totally and unambiguously free of charge. Also since all Roblox games are made using its unique programming language, to publish this or that game on our entertainment website, we have to port it into HTML5 or another supported type, which takes time. And that's why we have not yet added too many games in this category of our server. But we're definitely working on it every day.
Roblox creators, who sell their games and in-game items and features, obtain the internal currency called Robux for that. People can withdraw their earnings from Robux into multiple real-world currencies through the special payment processing platform (with an approximate rate of 80 Robux for 1 USD). Some game designers exclusively live off that, making over $100,000 a year. The most successful creators, whose games are played millions of times a year, earn tens of millions of dollars on an annual basis. As of the time being, there are over 5,000 games that are played over a million times. And there exist about two dozen games, which have been played collectively over a billion times. These guys earn really nice profits. But before you decide to become another developer of such games, think of an insane competition — there are only 20 loud hits compared to over a hundred million others that have been designed so far (which is below 0.00002%).
Nevertheless, it is not impossible for people to make money on Roblox: it is estimated that over 250 million dollars, in general, were paid to all developers for the entire time of their cooperation with the platform, which seems a nice result in a general number. Yet, take into account the fact that the platform withholds over 75% of all earnings that are derived from the platform — so, for a purchase transaction of 1 dollar, a developer receives only 25 cents before taxes (or less). That financial model, however, made the company itself very rich: only in 2021, it generated nearly 2 billion dollars in revenue before taxes. The total company's cost in 2022 is about 30 billion American dollars.
Internal currency
Robux, the internal currency, in the Roblox world is a dominating asset. Using it, it's possible to buy, sell, and make virtual items. However, if anyone can buy this currency and make the purchase transactions of items and cosmetic changes with it, only Premium users are entitled to the right to convert it into real-world currency and acquire it onto their accounts for the items they are selling on exchanging. An even more limited set of possibilities is given to administrators (who mainly work for the company), who can sell for it not only items or small cosmetic stuff but also body parts, gear, packages, and accessories.
This makes the mentioned currency to be often compared by many people with such notion as the 'company scrip' — a substitute for real money, which was a legal thing in some countries that are developed now but were in the stage of their development in the early years of the 20th century. Such companies introduced money substitutes because they were located in remote or hard-to-reach areas and could not provide their employees with enough cash to pay wages. Since there were no bank cards at that time, as well as cash supply was short and unstable, to make the local economy of the city/village/area run, people were given substitutes to buy food and other items from local stores. For instance, specifically engraved coins that could be made locally or something like that. That was done to exclude barter, which was not always possible and feasible. With the expansion of the economy and general development of areas, the company scrip practice was forbidden, stopped, and forgotten in most places on Earth. Yet, with Roblox, some people believe, it gets a rise again. Is it good or not for modern society? Well, it's hard to tell unambiguously. And definitely impossible to give a short answer to this question.
Most prominent games
If you're here on this page, wanting to play a game of this category, you must have been led here by your previous experience of playing one or more Roblox games. If you find anything on the list below familiar to your year, that's because you might have played anything. Well, these are actually the most prominent games today — and you can enjoy some of them on our gaming server for free:
• Work at a Pizza Place (run your own pizzeria and highly socialize with other gamers)
• Welcome to Bloxburg (it closely resembles The Sims with its idea and gameplay)
• Tower of Hell (beat all the obstacles, which hindrance you to get to the top of the tower — without any checkpoints, which makes this game super hard)
• Royale High (find yourself in a fantasy university of magical creatures)
• Rainbow Friends (survival horror, where you shall collect items and escape deadly creatures)
• Piggy (a horror zombie apocalypse)
• Phantom Forces (a shooter inspired by the best-in-class games, such as Counter-Strike and Call of Duty)
• Natural Disaster Survival (explore the possibility of surviving a swarm of natural disasters)
• Murder Mystery 2 (very close to Among Us & the card game Mafia)
• MeepCity (a multiplayer RPG similar to GTA but without much running and shooting)
• Jailbreak (it's a prison break-free game)
• Doors (escaper)
• Brookhaven RP (an RPG focused on light social interaction, very loved by kids)
• Break In (a horror, where a gamer has to survive besieging)
• BedWars (Minecraft-themed combat one-to-one game)
• Arsenal (a shooter derived from Call of Duty)
• Adopt Me! (MMORPG).
There exist so many other games in the world that it's impossible to list them all here (and it would, probably, take us several years just to list them, not even describing what they are). We're not looking forward to adding all Roblox games to this page (because it is impossible) but we are adding those we can, waiting for you to come back to this page to check for updates.