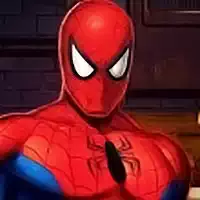 Spiderman
Spider-man alternatively known as Spiderman and Spider Man, was created as one of the participants of the universe of superheroes by Marvel Studio in 1962. The studio has also spawned a tremendous amount of superheroes and other characters, so everyone knows it today as a maker of super loud hits (including films).
Like many other Marvel heroes, this one was also created by Stan Lee (1922-2018), the world's greatest comic book author and hero creator. (Did you know that he was married for nearly 70 years? That's an absolute astoundment not only for Hollywood (where marriages last at most a decade or so (but, as a rule, a few years)) but for the entire humankind as well – this is generally an extraordinary length of marriage for a person!)
Spiderman was conceived first as a standalone hero (as many superheroes before and after him) but eventually, he joined an organization of superheroes, who save planet Earth in particular and the universe in general on many levels (his good manifestations). The list of various 'superhero organizations' where an Spider Man was introduced consists of such loud-named (although fictional) ones:
1. Spider-Army
2. S.H.I.E.L.D.
3. H.A.M.M.E.R. (in his 'Dark Avengers' role)
4. Avengers, New Avengers, and Mighty Avengers
5. League of Realms
6. Future Foundation
7. Fantastic Four
8. Defenders.
All the characters that were created by Stan Lee and others in the studio (over 200 various heroes and characters!) brought only in film office boxes over $36 billion throughout all years (with around $8 billion spent as budgets), with, probably, around $100 billion more in various franchise parts, games, rights, comic books, Disney parks, and merch. Spider-Man is one of the most successful creations of Marvel (now owned by Disney), along with such ones: Iron Man, Wolverine (and other X-Men), Thor, Hulk, Captain America, Deadpool, Nick Fury, Doctor Strange, Black Panther, Captain Marvel, Vision, Black Widow, Blade, Wasp, Howard the Duck, Ant-Man, Stingray, Venom, or Star-Lord. Many of them have their own superhero movies, nearly all successful.
Interesting fact: only fans know about Spider-Woman, a female character of Spiderman. Also, there was a Spider-girl, who appeared in over 200 pieces of comic book and other appearances (but not superhero films – yet).
Appearance of Spider-Man
Spider Man is, obviously, depicted differently in comics, cartoons, and films. He is able to change his suit nearly in every piece of a comic book, as well as in the film, depending on his current role, too. Some readers and viewers consider it an inconsistency; some others think it is the demonstration of the character's development.
Basically, classical Spiderman has two types of attire:
1) Red-and-blue (or red-and-black), with inserts of matte or shiny black and with or without silverfish linings of a spiderweb on his attire. On his chest, there is a black spider, which can be simply a print or some sort of device. There are also options of spider print on the chest of his costume that are performed in white or other colors.
2) Dark-gray, a nearly black one (or black) – is worn by Spiderman when he turns into an evil hero instead of a positive one.
In any instance, his body and head are completely covered with parts of the costume and a facial mask. His legs in costume #1 are predominantly blue and end with red high boots, which feel to be an inseparable part of the whole costume. His mask has vividly almond-shaped places for eyes, which, however, completely close the eyes that, in most instances, have a black surrounding area around the whitish eye parts on the mask. As he talks and breathes through the mask, he does not have mouth or nose openings.
Some fans consider the close visual semblance of Deadpool's costume to the one of Spiderman: they both close 100% of the body, have facial masks without openings for breathing, talking, and seeing; they have a circular black surrounding for eyes; their costumes are predominantly red-and-black (and they also look quite flexible in them). Also, their similarity (which even gave birth to fan thoughts that they somehow can be the same person) was briefly highlighted in one of the historical episodes of the universe of Spiderman (in 2012) when Deadpool masqueraded as Spiderman.
History and description of Spiderman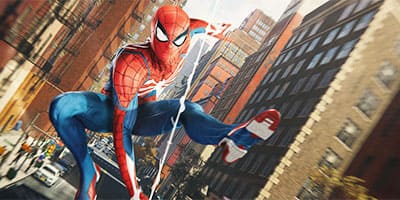 Many of our readers already know well the name of Peter Benjamin Parker – he is a human alias of Spider Man. Although this is the mainstream hero, which is considered the only truthful version of Spiderman, there are indeed many other instances of 'Spider-Man' – nearly 30 of them! To differentiate the 'true' version of Spiderman from 'false', the universe of 'real' Spiderman is called Earth-616 (it is inhabited by most other Marvel universe creations). All incarnations of Spiderman are created throughout decades of working on the character, trying to explore his personality to the fullest. Also, as he turned out to be one of the most successful creations of Marvel, no wonder he is evolving and changing, as well as his younger/older years and other incarnations in the Marvel universe are explored.
Nearly all known incarnations of Spider-Man lead to the changes in his appearance – costumes he wears (and their details), body details (height, weight, age), and person (ego, character). That is not so surprising if to consider that the role of Spiderman can be borne by several people hiding behind the same alias simply because they want to become and merge with their hero, Spiderman. So, there are several male and female manifestations of Spiderman, which make this hero, probably, the most duplicated and incarnated hero in the Marvel universe.
Originally, Peter Parker was a regular young man who was bit by a radioactive spider, which causes mutations in his body. The most significant of them turned into the ability to generate spiderweb out of his wrists at any point in time, as he desires, and amazing flexibility. Also, he is capable of clinging to walls. He works as a usual newspaper guy in the office and outdoors and although newspapers write about Spiderman pretty often, he manages to remain uncovered to every colleague. His boss, although doesn't like Spider Man in general, turns out to be a helper for both Spiderman and Peter.
Also, Peter has two best friends, which at times are depicted as his enemies (in different comic books). Also, he usually fights small criminals and larger ones, which are called his foes – there are over 20 of them. From those foes, some of them occasionally become his friends or (female characters) love interest, like the Black Cat, a.k.a. Felicia Sara Hardy.
Throughout the history and evolution of the Spiderman role, some people having this role die. For instance, it was so with Spiderman's incarnations Otto Octavius (Superior Spider-Man), Mattie Franklin (Spider-Woman), and Brian Kornfield (Spider-X). Many fans, who read comic books (not simply watch movies) hate some manifestations of Spider-Man simply because some part of them is evil. For instance, Ai Apaec (embodiment of Spiderman in a part of Dark Avengers) kills good Doctor Strange in one of their fights.
Marvel cinematic and video game industry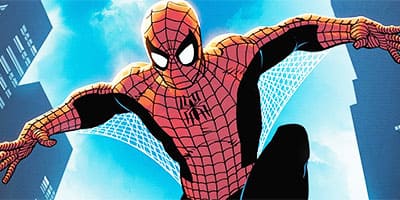 Marvel Studios, a part of Disney today, is the biggest superhero-creating studio in the world, which holds a tremendously bulky franchise of hundreds of billions of dollars worth (if to assess its business in its entirety). The studio creates short and long films, comic books, video + online games, animated films (cartoons), LEGO films, and an enormous amount of merchandise, which is also a part of Disney entertainment parks and amusement rides.
There are over 165 official games of all sorts and volumes created by Marvel, and Spiderman takes not less than the fifth part of them (alone or with other heroes) – that's in addition to a large number of unofficial games, which people can play on the Internet.
Simple online games featuring Spider-Man
In addition to many official games featuring this popular character, there are a large number of websites on the Internet, which offer to play simple games with Spiderman. We have played a large amount of them and classify them now as follows:
• classic games with missions similar to what Spiderman usually does in the films or comics: passing levels, fighting bad guys, and fulfilling level objectives, which usually are staying alive and collect collectibles
• battles with some opponents in arenas of various natures and backgrounds (a.k.a. street fighting)
• playing sports games, like soccer
• flying through levels, avoiding bumping onto anything
• crawling walls doing various stunts (especially using his ability to generate spiderweb and stick to walls)
• driving a car and other vehicles (including those that fly and sail)
• shooting with a web for precision
• gold coins rush
• kissing with one of the girls he saves (for instance, Mary Jane)
• jigsaw – collect Spiderman and his universe's participants from pieces of a puzzle
• paint things up – choose your color and give it to everything you see in a picture
• escapers (free Spiderman from someplace)
• things associated with some elements of Spiderman's universe but not him directly – like an online game 'Spider Trump', where the worst US president ever is covered with spiderweb
• flying on a rocket from points A to B (for speed or precision)
• Subway Surfer-like endless runners featuring Spiderman
• covering some distance of levels only swaying on the spiderweb Spider-Man generates (avoiding obstacles and trying to reach as many level stars of excellence as possible)
• comic maker – create your own Spiderman with the appearance that you like
• riding for balance, not for speed (for instance, on a bike, trying not to fall down)
• playing card games themed in their covers with Spiderman, especially Spider Solitaire
• exploring the alternative looks of Spiderman, for instance, when he is a baby (although he was not an Spiderman in a child age classically, turning into Spiderman after being bit by a radioactive spider already in young adulthood)
• being a part of other online free games featuring the heroes of his universe, for instance, Avengers or Justice League.