Test your concentration and reaction by playing Don't Touch The Red on our server for free Don't Touch The Red is one of the free online games , which can touch a nerve. To play it , you must be completely focused and attentive. Never touch the red tiles or you will lose! To play Don't Touch The Red , you only need a keyboard. Use the H, J, K and L buttons to push the tiles. Everything is displayed on the screen. The game offers four game modes: • Classic (time and speed are not limited, you just need to press the corresponding buttons on the keyboard avoiding the red ones; you can choose to press 25 or 50 buttons or play a PRO variation) • Arcade (it is a more difficult mode, where there is a certain speed and the tiles keep moving. You have a limited time to press the corresponding button on your keyboard. There are 3 variations of the mode: easy, medium and hard) • Rush (It is similar to Arcade mode, but in this case, the speed keeps increasing with every second, which makes the game more and more difficult. You can choose a variation of easy, medium or hard mode) • Zen (this mode has a time limitation. For a period defined, you need to press a certain number of green tiles. You can select 15, 30 seconds or a PRO version of this mode). This free game is very easy but it is very attractive and magnetic. You can play it for hours. It can relax you or make you concentrate. Try it yourself and have fun!
To controll Don't Touch The Red game, use your keyboard and mouse if you play it on your Desktop. Or simply use your finger if you use your mobile phone or tablet.

Don't Touch The Red is an online game, you need to be connected to the Internet in order to play it. Don't Touch The Red is an HTML5 game, which means that all you need is a browser of any of your devices. 100% supported devices.
Game's category: Arcade Games
Times Played: 3 891
Votes: 36
Game Rating: 58%
Age restriction: For All Ages
Game Tags:
Screenshot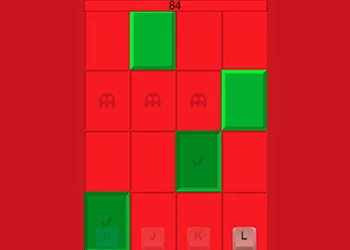 Play
Similar games:
Game Comments:
Who is better?
plants_vs_zombies
star_wars