It's time to hang out with the online game Hanger If you're a fan of Spider-Man, this is your game . The Hanger is a puppet game avatar, which is stylized in human form. For that reason, it requires a lot of empathy when it hits somewhere. Every time a player clicks the mouse, a white rope emerges from one hand of the Hanger , which attaches to the ceiling, allowing them to move further due to the effect of swinging (and inertia). Thus, in just a few seconds, you can accelerate your Hanger forward, making it break one progress record after another. However, the full fun would be too boring if it didn't have anything in the way. And it does: • red spikes (they stay still in most cases, but can move up and down, which makes it even more fun) • bumps in the ceiling and floor levels: once you you speed up, they will definitely come your way, hitting a hanger hard. When does it happen when it is hit? Unlike many similar games played online for free , it doesn't die right away. It falls apart, and that's a great solution from the game designers, which sets it apart from many other games in this genre. Call it tries. The number of them depends on how hard you hit somewhere. Spikes pack the heaviest hit. Actually, it is possible to waste your game avatar with one hit. However, in most cases, they are fine enough for two encounters. The most we have seen is 4 hits of medium strength. When the blow is very soft or just scratches the surface of anything, it does not affect the avatar, not discounting its life. This is another sweet spot in this free game . However, it is very difficult to progress beyond 25-30 in scoring. We were able to beat the high score of 30. Will you beat us?
To controll Hanger game, use your keyboard and mouse if you play it on your Desktop. Or simply use your finger if you use your mobile phone or tablet.

Hanger is an online game, you need to be connected to the Internet in order to play it. Hanger is an HTML5 game, which means that all you need is a browser of any of your devices. 100% supported devices.
Game's category: Arcade Games
Times Played: 22 809
Votes: 596
Game Rating: 75%
Age restriction: For All Ages
Game Tags:
Screenshot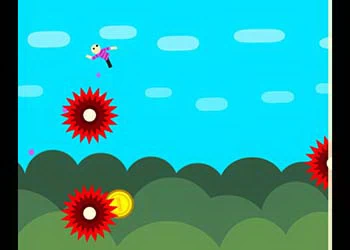 Play
Similar games:
Game Comments:
Who is better?
mario
teenage_mutant_ninja_turtles