How to play Heroes of Myths and why is it so exciting? It's hard to resist falling in love in this game played online . It's about the things that people like the most: • ancient history: Greece, Rome and their myth heroes like Hercules, Achilles, Perseus • their gods like Zeus, Hades, Poseidon, which directly influence the gameplay • auxiliary characters we see in the background: Prometheus who is chained to the rock, and Sisyphus who pushes the rock up the hill endlessly, fun but doesn't impact the game • fighting, to protect the temple and destroy your competitor's. In the protection sequence, you use the selected hero (between you) and the god (also, 1 of 3), who have their own powers • wonderful views, both in the background and foreground, when you progress between levels. The goal and process of this free online game The goal is to fight against your enemy's warriors. Each warrior killed gives money, and you can use this money to buy your warriors to use for attack or defense, as well as to buy upgrades between levels. The more upgrades you buy, the better the protection, attack, defense, power of the hero/god/warrior, the better the speed of the ones you use in battle, etc. There are many upgrades to use, and they are obtained with a medium ease for the player, although with limited money, but not in short supply. What we specifically like about this free online game is the balance. No matter which god and hero you choose, the ones on the other side are also powerful but not too powerful or too weak to be uninteresting to play . The efforts you put in to progress are fine for feeling the thing: the attraction and buzz you get when you come across something really interesting. The mechanics of the battle is what has been painstakingly elaborated by the creators of the game: a bunch of warriors goes to meet another bunch, from another side. You, as a player , must watch carefully to replenish those deceased warriors, apply god and hero powers, and try to destroy the other side's temple; that leaves practically no time during the battle, which keeps you busy. When the temple is grounded, you win. If your temple is defeated, you lose. Play as many times as you want. All this makes the process of spending time playing this free online game simply wonderful. You can easily forget about the world and immerse yourself for hours and days in the glory of ancient times. We wish you luck!
To controll Heroes of Myths game, use your keyboard and mouse if you play it on your Desktop. Or simply use your finger if you use your mobile phone or tablet.

Heroes of Myths is an online game, you need to be connected to the Internet in order to play it. Heroes of Myths is an HTML5 game, which means that all you need is a browser of any of your devices. 100% supported devices.
Game's category: Action Games
Times Played: 121 738
Votes: 69
Game Rating: 80%
Age restriction: For All Ages
Game Tags:
Screenshot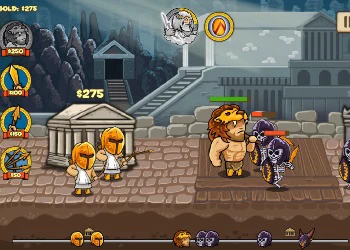 Play
Similar games:
Game Comments:
Who is better?
pokemon
fireboy_and_watergirl