What can Knife Smash game offer you? Learn from this description If your passion is throwing knives (or axes) at some targets, this free online game is the solution for you. He has sharp knives. You have to throw a defined number of them in each round on the surface of a rotating log, which already has some pre-installed items: • apples or other fruits (1) • other knives or just long objects (2). The log in each round can rotate in the other direction and have a variable or constant speed. A player 's task is to hit the log with all the knives given to him for this round, without once hitting any (2) long objects with the possibility of hitting any, all or none of the (1) objects. The same, you can not hit the knives previously installed by you. This is not as easy as it seems, especially considering that the rotation speed of the trunk can be very high. If it slows down sometimes, you're lucky. If not, well, that's not your round in this free online game and you have to play again .
To controll Knife Smash game, use your keyboard and mouse if you play it on your Desktop. Or simply use your finger if you use your mobile phone or tablet.

Knife Smash is an online game, you need to be connected to the Internet in order to play it. Knife Smash is an HTML5 game, which means that all you need is a browser of any of your devices. 100% supported devices.
Game's category: Action Games
Times Played: 9 258
Votes: 153
Game Rating: 69%
Age restriction: For All Ages
Game Tags:
Screenshot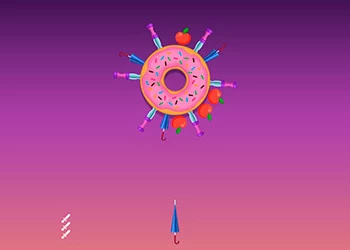 Play
Similar games:
Game Comments:
Who is better?
mario
plants_vs_zombies