Game Information:
Screenshot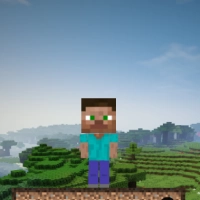 It's hard to say that this free online game is actually about survival... It's more about trying to land a Minecraft-themed stylized guy safely on a platform. Unlike many other similar games, you don't have to land on your feet; the only thing you need to make sure is that you are standing/lying on the platform steadily, without slipping off it. You pass another level of this free online game if you achieve this goal. If not, and the guy is off the platform, then you lose. To make him go up on the platform, you must click on the objects that are placed under him to remove them. Easy, right? Well, you'll get through easily in 8 out of 10 cases, the remaining two are more difficult and require another try.
To controll Minecraft Survival game, use your keyboard and mouse if you play it on your Desktop. Or simply use your finger if you use your mobile phone or tablet. Minecraft Survival is an online game, you need to be connected to the Internet in order to play it. Minecraft Survival is an HTML5 game, which means that all you need is a browser of any of your devices. 100% supported devices. Minecraft Survival on NAJOX.com is a Free game no payment needed. To play Minecraft Survival right now click: PLAY THIS GAME - a green button. ENJOY NAJOX!)
Play This Game:
Minecraft Survival
Game Rating: 71%
Please wait until the links are generated
Get this game
More Games:
Advertisement:
Game Comments:
Who is better?
among_us
subway_surfers