How to play Stickman Archer 4 and features of this free online game The game has three game modes : 1. Wave 2. Gunner 3. Arcade In Wave, a player shoots the classic round target located in the distance. In Gunner mode, he is a marksman inside a building. Every next floor is the next round. Arcade is to kill enemies with a bow. So two levels use bow and one level uses a weapon. When it comes to leaning, it takes quite a bit of time to adjust the way you play . What's important: There is no single tactic to shoot a bow correctly in this free online game - there are many ways to aim and power your shot. Also, if you play with opponents (enemies), they can also shoot you, which limits your thinking time. Sometimes when they shoot at you, they miss. Sometimes they don't. When they don't, they kill your game avatar from the first try more often (whereas it takes you two tries in most cases if it's not a lucky headshot). Enemies are still in most cases, while targets move much more frequently. Gunner mode isn't that simple either: you can't just pick up a gun and shoot; you need to select the right moment to do it because your avatar's arm moves up and down with no possibility to change this function. or speed. So the only way to shoot is to take a good time using your eye precision considering the game environment is dark.
To controll Stickman Archer 4 game, use your keyboard and mouse if you play it on your Desktop. Or simply use your finger if you use your mobile phone or tablet.

Stickman Archer 4 is an online game, you need to be connected to the Internet in order to play it. Stickman Archer 4 is an HTML5 game, which means that all you need is a browser of any of your devices. 100% supported devices.
Game's category: Action Games
Times Played: 1 576
Votes: 16
Game Rating: 69%
Age restriction: For All Ages
Game Tags:
Screenshot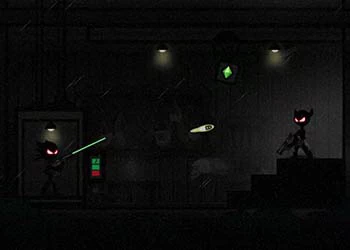 Play
Similar games: