Game Information:
Screenshot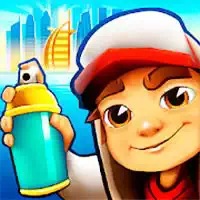 Free online game Subway surfers New York is an endless runner. It all starts here with a point where a cop is trying to catch a runner because of some petty crime he committed (originally, it was painting the walls with balloon paint, but in later versions, including this one, the real crime kind of has become imprecise). The goal of the runner in this free online game is to avoid getting caught, so it's for your own good to run. During this race, various obstacles are encountered: truck driving, roadblocks, pitfalls and bridges. In addition, coins will be collected, which signify the success of the level (in addition to the overall length of the covered track). Various boosters will allow you to fly, be invulnerable for a while, and draw the coins to you.
To controll Subway surfers New York game, use your keyboard and mouse if you play it on your Desktop. Or simply use your finger if you use your mobile phone or tablet. Subway surfers New York is an online game, you need to be connected to the Internet in order to play it. Subway surfers New York is an HTML5 game, which means that all you need is a browser of any of your devices. 100% supported devices. Subway surfers New York on NAJOX.com is a Free game no payment needed. To play Subway surfers New York right now click: PLAY THIS GAME - a green button. ENJOY NAJOX!)
Play This Game:
Subway surfers New York
Game Rating: 79%
Please wait until the links are generated
Get this game
More Games:
Advertisement:
Game Comments:
Who is better?
sponge_bob
sonic