Being a thief is so complicated! Swing Online is a good test. Our hero is a thief looking for easy money. Although bags of gold are everywhere, getting to them is not easy. Rules and controls Tap on the screen to expand the rope. Tap the second time to swing. Be careful with the spaces: each of them requires a specific length of rope. Try to calculate the necessary length. Don't fall into the abyss, or it's game over. Collect scores to win cool titles. Collect bags with gold on your way. Try to last as long as possible. Swing Awards Online is the thief's vision of life. He not only steals money, he has many challenges to overcome. Only smart players can get to the end. Therefore, his career growth is marked by cool titles. You get Secret Prison Break when the score is 10. You get Thief Of Night when the score is 30. You get Bag Full Of Golds when the score is 80. You get Swing Rope when the score is 150. Features Exciting jumping game suitable for all ages . Cool colorful graphics with a good thief as the main hero. Endless gameplay that lasts as long as you can handle it. Opportunity to compete with players from all over the world. Numerous challenges that increase in difficulty as players progress. Activates strategic thinking and memory training. Rooftop walks and gold thefts with no threat to health or liberty.
To controll Swing Online game, use your keyboard and mouse if you play it on your Desktop. Or simply use your finger if you use your mobile phone or tablet.

Swing Online is an online game, you need to be connected to the Internet in order to play it. Swing Online is an HTML5 game, which means that all you need is a browser of any of your devices. 100% supported devices.
Game's category: Action Games
Times Played: 32 446
Votes: 453
Game Rating: 77%
Age restriction: For All Ages
Game Tags:
Screenshot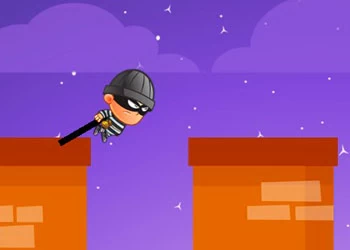 Play
Similar games: