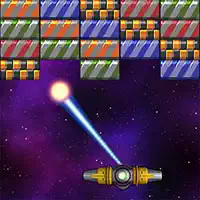 Freely playable Arkanoid games are very fun and insanely entertaining! The appearance of that game was in 1986 (in Japan). It is an arcade game, where a gamer is given a moving platform, which he or she uses to control and bounce a ball that hits the bricks and destroys them. The simple idea and description contribute to the popularity of that game, which makes it even today, so many years after its release, a popular choice of players all over the world.

Despite the seeming simplicity, free Arkanoid games are not that simple in the practical implementation when it gets to the gaming process. High attention must be paid to controlling the ball, preventing it from slipping into the nothingness around the platform. A gamer must do agile movements in order to make a ball land on the platform every time it bounces back from the bricks. Given that the trajectory of the ball might change every time it bounces back, the task is not straightforward, you know.

Also, some implementations of the game presuppose that the ball may proliferate in numbers. When some booster inside the free Arkanoid online game is collected, which adds more balls to the gameplay, controlling them all to prevent falling off the screen becomes harder. When there are several (more than 2) balls on the site, even the best attention and agility of movements won't save balls from eventually slipping into nothingness over time.

Breaking bricks can be made not easy, too: some bricks may be designed to be broken only after several successful hits and that increases the time needed to pass the level. Although, boosters that increase the length of the platform help, there are also those, which deduct from its length, making it harder to catch the ball every time it bounces. So, we're sure that given all these gaming opportunities, playing Arkanoid games for you will be one of the most enthralling adventures on our website!