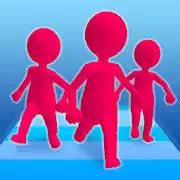 A clash is a conflict, collision, encounter, or some impact that one object makes on another. Thanks to such a diversified meaning, the category of online clash games playable for free contains several dozen games, which depict the moments of clashing with or between:
• aliens ('Clash Of Aliens')
• characters on the track or level to overcome them in a given manner to win ('Push 'em All', 'Epic Join Crowd', or 'Join Clash 3D')
• robots or robotized creatures ('Squid Game — Challenge 3' or 'Robo Escape — Speed Run')
• cars and foes of these cars (there are many free clash games of that kind in the catalog, for instance, 'Roads Off Fury', 'Jumps Blocks Road', or 'Jet Clash')
• people, good and bad ones ('Treasure Hunters', 'Soldier Way 2', or 'Wild West Clash').

We did not name just all instances of online clash games to play on our server — we're sure that it will be fun for you to explore others, unnamed games, on your own.

Playing them, a gamer ought to show such traits of character as persistence, attentiveness, agility, and the ability to predict on several levels (short, mid, long). You could also call them skills.

If you wish to have active encounters with anyone during the gaming process, then a lot of offers are to your choice. But there are also calmer ones, for instance, the game 'Foot Doctor Surgery', where the only clash that you will experience will be one with wounds on a leg of a girl who visits a doctor. In fact, we have such medical and medicinal games in abundance in other places in our gaming web catalog — simply explore them by opening other pages.

We tend to upgrade the list of games we're currently having, doing it every few hours at best or every few days at least. And if you happen to find some cool game on the Internet that you believe we must add to our collection, simply write to us in the comments and we'll see what we can do.