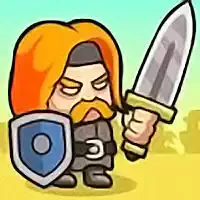 Our catalog of defence free online games embraces so far over 100 games of the Defense genre but we hope the number will rise above 200.

Here, we have collected all sorts of defence free games, where the goal is to defend to pass the level successfully. The kind of defense may vary and include:
• the defense of your territory against the encroachments of the enemy; the territory might be separated into parts or be a whole
• protecting your tower, which might be not just a tower per se but something else, given the preservation of the general idea: a planet, a solar system, a throne, borders of a kingdom, a city, a house… You name it
• shooting at enemies around to stay alive and make it to the end of the level — like is the case with all sorts of simplistic or sophisticated space shooters
• defending yourself from the hordes of coming rivals, which can be anyone and anything: zombies, orcs, troopers, evil creatures…
• fighters, classic or not, which represent various heroes, drawn in a multitude of ways, from simple to very detailed.

During the process of playing these free games of defence, it is quite possible to meet your beloved characters, such as Stickman, Phineas and Ferb, Ironman, Batman, Swamp Attack, Impostor (Among Us), Plants VS Zombies, and others. There are also not famous characters, but, we're sure, you'll fall in love with some of them during the process of spending time playing. These are usually monsters, tough dudes, spaceships, dinosaurs, knights, slimes…

What is cool about such games is that you can try many and even all of them to define, which style and design are to your liking, what graphic suits your device the most, and what complexity you prefer. There is something to choose from! And we're proud to have that collection of games on our online pages so everyone can enjoy.