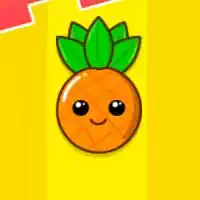 Play Fruit games for free with us online
Many online free games are connected with fruits. Their genres are hard to tell for sure within a few words because fruits can be used as anything at all:
i. sports equipment (instead of a ball or alike)
ii. in ambiance around the running/racing player (for instance, when he or she runs surrounded by farms or other rural scenery with such vegetation)
iii. items to pick (from fields, from a fridge, from anywhere else – to collect coins or gain other gaming elements)
iv. falling object to catch (like you may catch falling apples into your net/basket, running for a score)
v. growing items (a player can manage to grow fruits on his farm's trees or veggies on his soils)
vi. bull's eye (you can shoot into pineapple, for instance, to score)
vii. be as a part of items to collect in rows/columns
viii. be a protagonist (instead of a person, there may be a fruit. Like an orange. Why not?).
We're sure we've only highlighted a few and you may encounter other options when exploring online.

Fruit games: traits
Hard to tell what unites this kind of online free games but just using the pictures of vegetation that is good enough as foods. Maybe only this. Trying to define their common genre or gaming mechanics or some other similarity is doomed to failure as fruits and vegetables are used so often and in so many games.