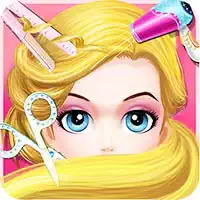 Hair games playable online are all about hair design. These online free games are predominantly designed for girls – they love doing makeup and makeover.
Hairstyle is not as simple as that – in addition to the hair, the entire look shall be consistent, which makes it necessary for other elements of the look to contribute: apparel, shoes, accessories, bags… Often, there is a need to make a hairstyle to be in line with some particular event, which it would match: wedding, prom, a night party, princess prom, Halloween, Christmas, going to a club or dancing…

Some hairstyles are specifically made not for humans – since there are creatures of the gaming universe, which have hair, too. Here we can count Pou, Minions, Vixy the fox, characters from My Little Pony, and even Santa. When it comes to making hairstyles of people, a player mostly meets princesses in such online free games – as they are simply perfectly matching characters to try on various hairstyles and apparel styles.
From the most famous girls, which serve as models in such online free games, we would name Elsa and Anna from Frozen, Barbie the doll, Moana, a Polynesian princess, Snow Queen depicted not by Elsa, Sleeping Princess, and Ladybug.