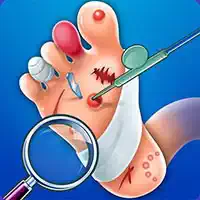 A word for Hospital online games
If you've always wanted to be a doctor – this is, finally, your fattest chance to become one. Well, not for real – in the gaming ambiance though. However, you can do a lot of things you wouldn't be allowed in the real life – like prick your patient with a syringe needle seeing what happens next and what reaction will occur.
This is not a great thing only to see how exactly your actions can harm – but also, certainly, what goodness can they bring. Alongside with studying the medical outcomes for your hero, you can also select to play which one exactly you wanna try today – whether it will be:
- Baby Hazel
- Ben 10
- Subway Surfer
- Anyone from Frozen
- Peppa Pig
- Barbie
- Ladybug (including her child version)
- Talking Tom
- Minions…

Free Hospital games – what features do they incorporate?
Select from dozens of games and a number of possibilities to investigate a body and its parts:
- teeth
- eyes
- ears
- nose
- skin
- throat
- internal organs
- general illness
- traumas, injuries
- ER
- investigation of general health and so on.

The awesomeness of Hospital games that may be played for free on our site
Select your character you love today from amongst more than a dozen of represented and try not to harm them (too much, at least).