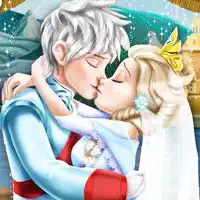 Romance makes our lives brighter! That thrill when you see the boy or the girl of your dream shakes us like the earthquake. It's the thing that millions of poets made their poems about - a pure, sensational love. This feeling is the best medicine from the depression and tiresome routine - the mix of hope, excitement, and anxiety leaves no room for the reflections.

If you don't have enough romance in your life, then online kissing games might me the solution just for you. The second most pleasing thing in the world - just after kissing the object of your love - is watching as your favorite characters kiss each other! The happiness - and a drop of friendly envy - can become a nice replacement for the real relationships.

All couples you were fantasizing about
On skywardgames.com you have all the couples you've ever imagined being together. Elsa and Jack, for example, have never met in the cartoons, yet, this is one of the most popular pairs in the girls' love games. In this category, you'll be able to see how their mutual emotions grew from simple kisses up to the real wedding and beloved children.

Disney princes and princesses hold their positions in the top of the most popular couples too. Ariel and Eric, Flynn and Rapunzel, Aladdin and Jasmine have the relationships, that can be an object of envy. Their feelings for each other passed the test of time, problems and adversaries. There's nothing surprising in the fact that they have a huge fan base, which you'll soon join too. Watch as those characters open to each other - become a part of their love stories!

Play kissing games on our site to meet even more couples, which you wish would be together. Our romance games' base has dozens of different characters and themes - we surely have something just for your joy!