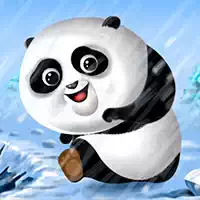 Panda, probably, is the only naturally cute bear. It is also the least dangerous to people because it does not eat meat or anything else, basically, but bamboo, which it consumes from 10 to 40 kilograms every day (can you imagine that volume???).

Pandas as species appeared around 8-10 million years ago, as their fossilized remains tell, which are found in Europe and China. They started to interact with people thousands of years ago and still do (some of them are kept in zoos). And although they are today considered endangered species, their number started growing lately and we hope that this trend continues in the future (because these bears are so cute!).

Exactly because of the cuteness, people love so much freely playable panda online games on our server. We have around 50 pieces so far but the list is almost constantly being replenished (on a weekly and monthly basis). In our catalog, it is possible to find these cute creatures (and those looking closely at them) to have nearly endless fun! The nature of gameplay in the free online panda games consists of:
• flying, sailing, and walking ('Panda Hero Fighter', 'Fishing Games For Kids', or 'Go Go Panda')
• escaping dangers and collecting bonuses ('Dino World — Jurassic Dinosaur Game', 'Sticky Panda — Stickying Over It With Panda Game', as well as 'Panda Subway Surfer')
• falling in love and making panda happy ('Happy Panda', 'Baby Panda Care', or 'Panda Love')
• going up using various techniques ('Stack Panda' or 'Baby Panda Up')
• coloring and drawing ('BTS Panda Coloring' online panda game to play for free), etc.

So if you adore these creatures and would like to discover more information about them, then explore the games where pandas are protagonists and immerse yourself in the fun time. You can enjoy free play without any restrictions on the variety of gaming devices: a mobile phone, laptop, tabletop PC, or tablet.