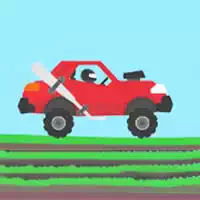 What are Rally games?
If you are a fan of classic driving, you shall love to play Rally games. This is the most commonly played type of online free games. They have been developing for over 30 years as the genre of games and the first versions of them appeared at the end of 1980-ies as the 8-bit graphical oeuvres to play on color TVs. Now, the genre has definitely developed really far, inventing many subgenres. For instance, the classic version of the rally is when a player races through laps, overcoming competitors and earning prize places for a good finish. Since then, options derived. For instance, now there are fliers – a player's car can fly, flying over or jumping over the obstacles on the track (try 'Rocky Rider 2'). The other game named 'Jurassic Hunter' involves the dinosaurs from 'Jurassic Park' film installments. Many of such games include heroes a lot of people know: Dora, Angry Birds, Pokemons, Batman and so on. A significant part of Rally games today require not only agility of your reaction when riding through laps, but also shooting to the enemies to kill trying to avoid obstacles at the same time. For instance, zombies. That means that the speed previously demanded as the top-1 feature of the genre can now be not the most important part at all.

Features of free online Rally games
- the speed of reaction is wanted in many online free games. However, there are such ones that do not require speed as they are connected to reaching by-side goals like killing someone or jumping over something
- many types of vehicles are used: sports cars, trucks, motorbikes, Batmobile, tractors, candy car, ambulance car, fancy cars, non-existing exotic types of cars…
- shooting as a by-side goal is often a must.

Fun with online free Rally games
Various ambiances presented by free online Rally games allow selecting the game you like – from fluffy like in 'Dora Candy Transport' to shiny like 'Angry Birds – Rocket Jet' and to gloomy like 'Batman Truck 2'. Lovers of simple graphics will like 'Monkey Motocross Island 2' and 'Desktop Racing', while lovers of something fancier and more sophisticated will feel good in 'Rich Cars' part 1 and following.