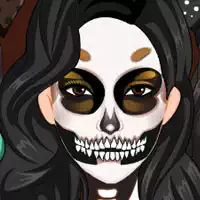 Scary online free games – description
Are you scared of creepy boogies? What kind of them? Spiders? Monsters? Darkness and everything it hides? Dead people crawling out of their graves? Or maybe combined – monstrous-looking spider-fingered dead people crawling from the darkness to your backyard under the blood moon light? Whatever it is, the current genre of online free games is destined to creep you out. To make you feel scared. Spooked. To run to close all your doors and windows to prevent slimy clumps of darkness crawl into your dwelling to catch you and drag to the very hell. Ugh, ghostly and eerie, isn't it?

Free online Scary games' traits
There are numerous games in this subgenre that are connected with one global idea: to give a player something scary. It can be:
• a picture (like in a puzzle that one has to collect)
• a circumstance or ambiance (finding objects in an eerie house full of ghouls or something)
• dressing up some undead or a 'Monster High' long-legged girl to make her look even more repulsive with all this cemetery ambiance
• shooting up the objects that have something otherworldly (like Halloween theme, zombies or anything like that)
• get yourself out of some creepy place
• shooting and avoiding being eaten and so on.

Do we have something enticing in the genre of Scary games?
Yes, we do! For instance, the game 'Slenderman must die Chapter 7' – in which you can try to shoot the undead and burn him down to the bones. Fun, huh?