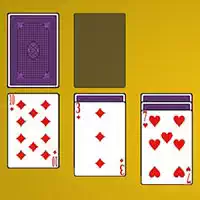 The solitaire as a game appeared in the 1600s as a peg game, which had a wooden board and a number of pegs (a.k.a. balls) of different meanings and forms. Much later, it was transformed into a game with cards and it has been long known as Klondike in the USA and the UK. Other names of the game are Patience, Canfield, Sevens, Seven Ups, Westcliff, Concentration, Pexeso, Spider, Pairs, and others. There exist more than a dozen other variants of the game, both connected with cards and with other gaming items. A very widespread option of Solitaire in the Oriental manner is Mahjong, which you are definitely acquainted with.

On our server, we have many free solitaire games, the biggest part of which is connected to cards. It is usually played without jokers and has distinctive rules depending on the type of the game (the most common options of this game with cards are single deck, tarot, double solitaire, gambling, and an option with jokers, which stands out from the crowd specifically because it does contain jokers, otherwise omitted in other versions).

As you can see, our online catalog of freely playable solitaire games has pieces of different visual implementations by colors, designs of cards, the absence or presence of helping characters (guides), and names. They all boil down to just several common options of rules, which are about making the cards lay down on the gaming field and, eventually, gathering them in four decks, beginning with aces. Playing one game from start to finish usually takes 10-15 minutes.

The popularity of solitaire online games among computer users started in the 1990s with the introduction of the Windows operating system, which had this game among the standard ones. Millions of office workers used to spend their working time playing this game instead of doing their jobs. That was soon, however, replaced with more advanced games on computers when they started to be more powerful.