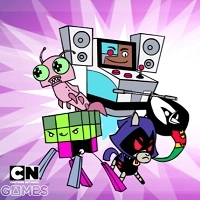 Teen Titans Go
Teen Titans Go is a part of the universe of Teen Titans. They were depicted over many years, starting in 1964. They were originally published in comic books in the USA. Since then, for nearly 60 years of their existence in popular culture as a team, they have grown into a separate universe of heroes and embraced also films, cartoons, animated pieces, special editions, books, games, and TV series. They are also established as a large part of the superhero world that's created and promoted by DC Comics, their parent company, and so they have received various appearances in crossovers — not only within their own part of the universe but also with others, including the Justice League, Suicide Squad, The Flash, Green Lantern, Green Arrow, Batman, Aquaman, Shazam, and others.
Description of the heroes, their gaming & comic book universe
Teen Titans Go is an animated TV series, which started to air in 2013 and currently has not been canceled. That's due to this fact, the number of its seasons and episodes is not static — it's expanding. So, as of the moment of writing this text, there were 8 full seasons featuring 368 episodes (and the last season started to air in October 2022).
There were numerous previous versions of teams of these characters, which changed, aged, joined, and separated over time. Currently, the Go version of Titans comprises of 5:
• Robin
• Raven
• Starfire
• Beast Boy
• Cyborg.
Although these dudes are adolescents by definition, they are voiced in the animation series by people, whose real age is well over 40. Some of them are in their fifties. But they all do a really great job when they give their voices to teens. And, we're assured that most viewers didn't even have a clue that the real people behind their beloved characters are so aged. Well, that's because it's part of what they do professionally — acting.
Robin is currently voiced by Scott Menville. He is 52 (in 2023) and is not only an actor but also a musician. You might have heard his voice in the films 'The Time Traveler's Wife', 'Despicable Me', 'My Little Pony', 'Scooby-Doo', 'Cars 3', and on TV: 'Quantum Leap', 'The Little Mermaid', 'Scrubs', or 'The Fuller House'. That's far not the full list of his works, though. Robin as a character is a guy in a green costume, dark-red vest, and wearing a cloak. His face is partially covered by a black mask (primarily, it is meant for his eyes). He appeared much earlier than these heroes as a team themselves: he was first spotted in 1940, known under the name Dick Grayson. You may know this hero as a sidekick to Batman (for instance, in many works featuring Batman and Robin) and his primary work was to help Batman in various deeds. During his history and evolution, he was known under many other names and these characters frequently have different fictional biographies. This guy does not have any distinctive superpowers and mainly relies on his physical agility and endurance, as well as weaponry for combat. He is the leader of the group and is responsible for the scientific and detective part of the group's work. Unlike many real-world teens (at least, what they should be), he is very serious and purposeful. His wise leadership often helps their entire team succeed.
Next is Raven. She is voiced by Tara Strong. She is 50 in 2023 and her voice-over-and-acting career started in 1986. She is mostly known for her voice roles in 'My Little Pony' cartoons, where she gave her voice from 2010 to 2021. She was also spotted in animation films, regular films, video games, and live-action pieces. Since she has hundreds of works, it is virtually impossible to list them all here. Raven as a character appeared in 1980, having the birth name Rachel Roth. She is a demon-fused-with-human born on a fictional planet Azarath. When her world was destroyed by her evil father, she came to Earth and joined the team. The set of her superpowers revolves around various kinds of magic and she can participate in battles both physically and mentally. Her personal lack of empathy makes her perceived as a character devoid of emotions.
Starfire is voiced by Hynden Walch, 52 as of 2023, a lady, whose voice is heard in many films, animation series, cartoons, video games, and other pieces. She started her career in 1992 and you might have heard or seen her in such films as 'Aladdin', 'Tom Sawyer', 'Tangled', 'Winx', 'Justice League', 'Batman', and on TV in such pieces as 'ThunderCats', 'Adventure Time', 'Robot Chicken', 'Transformers' and their multiple variations and editions. As for the character of Starfire, she is an alien princess with orange skin and green eyes, whose original name is Koriand'r (yes, like the herb coriander). Her superpowers include amazing strength, light-speed motion, and emitting energy gusts from parts of her body. Since her royal nature prevails, she is very kind, polite, and super-groomed all the time. Her flamboyance and liveliness can be considered a complete opposition to Raven's character.
Beast Boy is voiced by Greg Cipes, who is the youngest in the entire team of voice actors — as of 2023, he is "only" 43. Just like the others, he is also well known for voicing in films, animated pieces, cartoons, and games. He gave his voice to various creations in the universes of Ben 10, Spider-Man, Star Wars, TMNT, Avengers, Duck Tales, Trolls, and others. He occasionally appears on television (in his human shape, not as a voice). As for the character, he originally appeared in 1965 and was depicted as a boy with green skin wearing a red-and-white suit, whose superpower was to turn into a beast (different kinds of wild animals, walking on the ground, swimming, or flying — basically, anything he had seen before, including extinct ones, like dinosaurs). His alter ego is named Garfield Logan. He is powerful in physical combat due to his animal morphing. Unlike most regular depictions of animal transformations that werewolves have (which is done by them pretty slowly, from minutes to hours), he is able to morph only within one second before getting to battle. It is specifically because of his swift transformations, where he can both gain mass and lose it, depending on the species of an animal he morphs into, he has an excellent healing ability from various wounds, which he occasionally receives, including gunshots and more serious ones, like limb loss. Occasionally, he shows abilities to morph into a group of same-kind species, like a swarm of bats, and even takes beast-like appearances, which are not actual living creatures, which allowed him once turn into the Beast from X-Men, which is not a human and not an animal. That morphing power even stretches his ability to transform into non-Earth biological species, including demonic creatures that resemble ones from the planet of Raven (although, she helped him initially gain this by planting into his body a special evil seed that came from her planet).
The last one is Cyborg. He is voiced by Khary Payton (age 50 in 2023). You might have seen him as Ezekiel Sutton in the Walking Dead, where he was the main and recurring character from 2016 to 2022. He has many other notable works, which stretch through films, TV series, animated pieces, cartoons, video games, live-action roles, and others. In addition to Teen Titans Go, you might have seen him or heard his voice in 'Ben 10', 'Justice League', 'G.I. Joe', various LEGO DC comic pieces of oeuvre, 'Scooby-Doo', 'Guardians of the Galaxy', 'Tangled', 'Batman', 'X-Men', 'How I Met Your Mother', and many others. For his outstanding work, he was even nominated for Saturn Awards and BTVA Voice Acting Awards (but didn't win anything so far). Cyborg, his character, originally appeared in 1980 and is known under his alter ego Victor Stone. He is partially a man and partially a cyborg, which is reflected in his superpowers and abilities: super strength, excellent stamina & endurance, high speed, and connectivity to various kinds of computer devices. To heal from inevitable wounds, which he receives as a part of his team's activities, he has nano-regeneration. His shapeshifting, which is mostly thanks to his cyborg metal parts, helps him in battles and life. Also, he can save his team and lead it to a safer destination by opening portals of immediate transportation. Because he is able to retrieve much information through online and offline connections to computer interfaces and grids, he has access to various pieces of information and data, which at times changes the course of events in favor of his team. That also adds to his exceptional intellect. Cyborg was created as a white person although there were previous attempts by original comic book creators to introduce him as the first African-American central character of comic books, not auxiliary one (which existed as of that time as minor characters here and there). These attempts failed in earlier years but then, his skin color was eventually changed to be in line with changing moods of younger audiences. No wonder an African American man is voicing him today, which seems perfectly logical.
Teen Titans, including their Go version, are a team of very powerful individual superheroes, which were designed to cater to younger and youngest audiences. They were made as versatile characters, which enabled them to be included in various other superhero teams. That's why they are so actively cooperating with others and frequently appear in cross works. They are known to be affiliated with Doom Patrol, Justice League, Batman, Sentinels of Magic, Night Force, Outsiders, REBELS, Justifiers, the Outlaws, Young Justice, The Ravagers, and others — these are in addition to various forms of their own union. That made them all as a team and as individuals to be frequently included in cartoons, films, offline and online games, animated series, books, collections, specials, commercials, and other pieces of pop culture. Their abilities are very different but they work excellently together, so they finely supplement and support one another.
The current version of Titans
Although most of the original works focused on action-based adventures of the Titans, the current version features them in a homier and calmer ambiance. The series of cartoons mostly explores them as teen superheroes when they're out of their usual superhero deeds. So the heaviest focus is on the mundane living of Titans when they are in their T-shaped Tower, which is their command center and living quarters.
The current series is more aimed at those audiences of children and their parents, who are tired of too saturated superhero action creations and more prone to watching something relaxing and packed with jokes.
The teammates in the series live in their fictional Jump City (which was the center of a large part of their previous adventures in other instances). They neither save the world here nor do other super-cool stuff — this is left largely behind the scenes, being given to other pieces of oeuvre about their 'hero' side of the team. So, to make it appealing to audiences, the cartoon activity includes many jokes, stupid situations, and things teens normally do when there are no adults around. A large part of the jokes the characters make is attributed to their own universe and other heroes of DC.
The kinds of games featuring these characters that we have on our website
Surely, we do not have just all games featuring these guys on our gaming server. Yet. We're actively working on the fulfillment of our online catalog of free games. But what we have so far might already please your striving for a wonderful pastime with these amazing heroes:
• action pieces
• jumpers
• fighters
• arcades
• rescuers
• color-ups
• smashing piñatas
• runners (in 2D and 3D)
• and other pieces of entertainment.
We usually upload a new piece to our gaming portal every several hours, so, if to count on a weekly basis, the upload of about 30-35 new games to the general catalog is done. That's well over 1,500 new games every year. So, we think you should better come back to this page to check for exciting and meaningful updates!