Garfield, the beloved orange cartoon cat who loves lasagne, has found himself in yet another predicament. Garfield may be the stoic protagonist of his never-ending adventures with Jon and Odie, but that doesn't mean he's immune to fear.

Click Your Way Through Fun Mini-Games and Puzzles
Use the easy directional arrows at the bottom right of the screen to guide Garfield through the haunted house. As you move from room to room, you can use your mouse to click on various items in each room to interact with them.

But we must warn you:

Be Careful What You Click!
The main mechanic of Garfield Scary Scavenger is the Scare-O-Meter at the bottom of the screen. Filling up the Scare-O-Meter will cause you to lose the game. While you need to interact with different objects in the background as you're exploring the mansion, there are some objects that are not-so-helpful. We don't want to ruin some of the best scares in the game by telling you what you shouldn't click, but we can warn you that not everything is as it seems.

Fortunately, you won't be without help:

Helpful Thoughts From Garfield Himself
You won't be alone when trying to figure out what to do next. Garfield's internal thoughts are projected as tips on the top right portion of the game screen.

"I think I heard something in the other cell."

"There's something here, but I can't see a thing."

Use Garfield's thought process to help guide you through the game without telling you what to do. This is a puzzle game after all!

Find Useful Items and Collect All The Items To Win!
As you make your way through the haunted mansion, you'll find yourself blocked by various puzzles. Use items you find around the house, such as a key, a bone, or a newspaper, to help you progress. Collect all the items on the left side of the screen to win.

Now that you know what you're getting yourself into, play Garfield Scary Scavenger and help our favorite orange cat face his fear!
To controll Garfield Scary Scavenger game, use your keyboard and mouse if you play it on your Desktop. Or simply use your finger if you use your mobile phone or tablet.

Garfield Scary Scavenger is an online game, you need to be connected to the Internet in order to play it. Garfield Scary Scavenger is an HTML5 game, which means that all you need is a browser of any of your devices. 100% supported devices.
Game's category: Garfield Games
Times Played: 1 067
Votes: 15
Game Rating: 93%
Age restriction: For All Ages
Game Tags:
Screenshot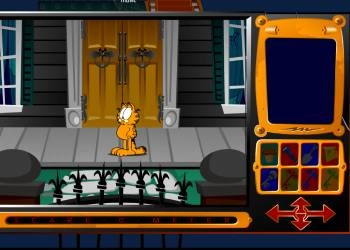 Play
Similar games:
Game Comments:
Who is better?
blaze_and_the_monster_machines
mario