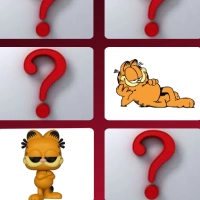 Even if you don't know the name itself — Garfield — you must have seen the recognizable orange-and-brown smiling cat, which has appearances in cartoons, films, books, comic books, video games, on stage, and the Internet. Particularly, we have a category of playable for free Garfield games online, where you can become closer acquainted with this pretty pet and his friends (Odie, Nermal, Pooky, and Ariene).

As for films, you might have seen Garfield: The Movie (released in 2004) or its continuation, Garfield: A Tail of Two Kitties (released in 2006). If not — well, a lot of TV-aired short-termed cartoons are being released since 1978, which is immense 44 years ago as for the moment of writing this descriptive text (which is not just older than you, our little player of games with Garfield for free online but also older than most of your parents).

This cute little character is liked by millions of people in the world because he is direct, easy, and spontaneous. He has a lot of fun with his friends, running in and out of various hilarious situations, which make you laugh and fall in love with him and his style of living.