Hyper color rush : What is this game and how can you play it? Here, you really have to hurry. Colors are everywhere; they are surrounding you, not letting you go. With every millisecond, they are tightening their circle around you, leaving you with no chance of escape, but doing only one thing: shooting. Shoot them with all your strength, powers and quick thinking ability. Shoot them like your life depends on it (in the game , it does). Shoot with all the precision of which you are capable. The rules are described above, but now we tell them in a different and more understandable way: 1. With the rotating pointer located in the center, you need to make shots. 2. Only those shots that hit the same color as the pointer is currently colored (and its dotted line) are productive. 3. If you hit any other color, you lose. 4. If you don't hit all the objects in a level, you lose when the first object hits your center circle. 5. To make it more difficult, in almost every level, new lines of various colors are added even before you have finished shooting all the existing ones. 6. At each subsequent level, the speed of rotation speeds up and after each shot (hit or miss), the pointer starts to rotate in another direction. If you think this is simple, try this free online game first and then give your estimates. It is designed only for the best players with the most agile reactions.
To controll Hyper Color Rush game, use your keyboard and mouse if you play it on your Desktop. Or simply use your finger if you use your mobile phone or tablet.

Hyper Color Rush is an online game, you need to be connected to the Internet in order to play it. Hyper Color Rush is an HTML5 game, which means that all you need is a browser of any of your devices. 100% supported devices.
Game's category: Shooting Games
Times Played: 3 499
Votes: 15
Game Rating: 67%
Age restriction: For All Ages
Game Tags:
Screenshot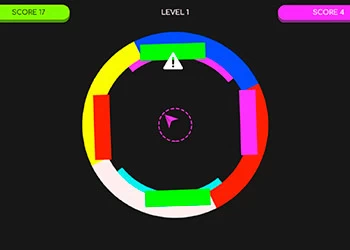 Play
Similar games: