Get ready for Jelly Madness! Play and enjoy! One of the most beautiful and easy free games in the matching genre is definitely Jelly Madness. In the spotlight are cute little jellies that are colored in all sorts of fun colors. Looking at them, the heart fills with a joy that only a good joke or a refreshing drink on a hot day can bring. To date, the free online game Jelly Madness is one of the best of its kind based on the following conclusions and facts: 1. The mood of the game is based on the ease and simplicity of the process. Unlike almost all other matching games, this one is meant to bring pleasurable relaxation to players, not tense them up. To do that, the creators made the levels as easy as possible and even the complex tasks that a player has to achieve during each of them are not difficult to achieve. There are enough moves given. And there are booster-helpers on the right that can be used at any time. Therefore, the ease is a great advantage. It dramatically differentiates this online game from, say, Gardenscapes, which is almost unplayable after level 20 (less than 1% of the total number of its levels). 2. It has a very balanced amount of animation. Unlike the stupid trends of recent years, the golden rule 'the less animation, the better' has not been canceled by anyone yet. People love animation only when it comes to watching the animated movie. In the case of the latest games , both online and offline, many creators are somehow convinced that animation and SFX should replace the essence. No, it doesn't work that way. It just makes players so angry that they uninstall (if you're not a Japanese gamer, for whom SFX is everything). And the free online game Jelly Madness has enough animation and special effects: just right to make it fun, bringing the essence to the fore. 3. Each level takes only several minutes of your time and can be repeated an unlimited number of times. Also, you can choose to replay each of them and the game will not push you out of the level to the map page to enter the next level every time you finish. This is another player-friendly perk that saves a lot of time and makes for non-stop fun. As you can see, it is a very advantageous online game and we wish you luck playing !
To controll Jelly Madness 2 game, use your keyboard and mouse if you play it on your Desktop. Or simply use your finger if you use your mobile phone or tablet.

Jelly Madness 2 is an online game, you need to be connected to the Internet in order to play it. Jelly Madness 2 is an HTML5 game, which means that all you need is a browser of any of your devices. 100% supported devices.
Game's category: Adventure Games
Times Played: 3 639
Votes: 4
Game Rating: 75%
Age restriction: For All Ages
Game Tags:
Screenshot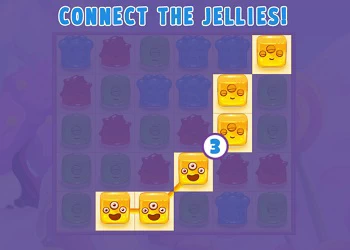 Play
Similar games:
Game Comments:
Who is better?
subway_surfers
dora