Embark on an extraordinary adventure with Monster School Challenges, the ultimate mobile game that combines education and fun in a captivating way! Join a lively group of lovable monster students as they tackle exciting challenges and learn valuable lessons along the way.

Monster School Challenges takes learning to a whole new level by transforming educational concepts into thrilling gameplay. Engage in a variety of brain-teasing puzzles, riddles, and quizzes designed to sharpen your problem-solving skills and expand your knowledge.

Join your favorite monster characters as they explore fascinating worlds filled with unique challenges. Solve math problems, unlock hidden patterns, and unravel mysterious clues to progress through each level. The challenges increase in difficulty, ensuring that players of all ages are continuously engaged and motivated.

Immerse yourself in a dynamic learning environment that sparks curiosity and creativity. Discover fascinating facts about history, science, geography, and more as you complete each challenge. Whether you're identifying famous landmarks or deciphering scientific equations, every challenge is an opportunity to learn something new.

Customize your monster character and make them your own. Choose from a wide range of unique looks, accessories, and outfits to express your personal style. Stand out among your friends and fellow players as you embark on this exciting educational journey.

Enjoy stunning visuals, lively animations, and immersive sound effects that bring the monster school to life. The vibrant and colorful world enhances the learning experience, making it engaging and enjoyable for players of all ages.

Compete against friends or players from around the world in exciting multiplayer challenges. Test your knowledge and skills in head-to-head quizzes, puzzles, and trivia battles. Rise through the ranks, earn achievements, and prove your mastery of the Monster School Challenges.

Stay engaged with regular updates and new content that expand the game's educational offerings. Discover new challenges, unlock bonus levels, and explore exciting new topics. The game keeps evolving, ensuring that the learning adventure never ends.

Monster School Challenges is not just a game—it's an educational experience that sparks curiosity, fosters critical thinking, and encourages a love for learning. Download the game now and join the monster students on an exciting journey of discovery and growth. Are you ready to conquer the challenges and become a true monster scholar? It's time to embrace the fun and embark on a remarkable educational adventure!
To controll Monster School Challenges game, use your keyboard and mouse if you play it on your Desktop. Or simply use your finger if you use your mobile phone or tablet.

Monster School Challenges is an online game, you need to be connected to the Internet in order to play it. Monster School Challenges is an HTML5 game, which means that all you need is a browser of any of your devices. 100% supported devices.
Game's category: Minecraft Games
Times Played: 6 518
Votes: 241
Game Rating: 87%
Age restriction: For All Ages
Game Tags:
Screenshot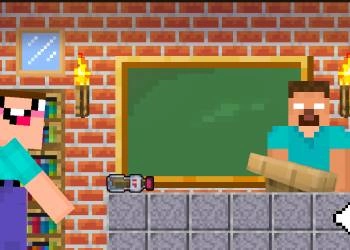 Play
Similar games: