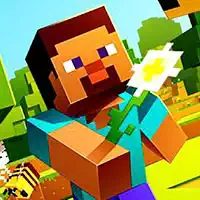 The description of Minecraft games
Minecraft is the entire direction of games, although it has started as the single game. In early 2010th, it was developed as a standalone game by Swedish gaming company, which then, only in less than in 10 years, has grown into a very big universe. It now embraces not only games but also animation movies and films, written stories, cartoons, various kinds of games – free and paid, and, of course, many items of merchandise like cups, T-shirts, hats and so on.
The game itself is a 'sandbox' type, where a player is not limited to passing through a number of quests that are necessary to finish the game. A player is free to choose what, when, and where he or she likes to do and whether to follow the general line or to completely ignore it. The list of options a gamer has includes mining, building, fighting, and exploring. As many other games (and we're not only talking about free online ones), the world is a random-generated by a computer, thus giving vast opportunities for players to use practically unlimited territories in their fun process, and thus, there is a possibility that a player in the universe of Minecraft can never meet anyone else – as he or she can escape the crowded places selecting a secluded one to play.
Of course, this data above is not the most recognizable feature of Minecraft. But what is – is that the game is developed in 3D simple structures, simplifying everything to the very dullness. A player can be represented by just several squares of different colors and the hand-picked items, for instance, can be some rectangular objects that are created of large-scale pixels. The simplicity of graphics is what Minecraft is all about. It is deliberately simple – and that's another popularity of the game as it can run even on very not powerful computers.

What can free online Minecraft games offer a player?
Actually, not only Minecraft itself is a game that is attributed to the genre – there are many other online free games that resemble it due to their simplified graphics. The graphics may not be the same as Minecraft has but they have as poor detailing as possible.
- a person has to build objects or possess some cool items to defend himself from barbarians trying to destroy his or her buildings
- there are other Minecraft-alike games that have nothing to do with the original line. For instance, these can be shooters or item-catchers, geometry dashers, floor jumpers, balancing, puzzle collection, bubble shooters, bombing the area, and so on
- the simplicity of graphics is the main idea that was liked by millions of players all over the world.

What kind of free online Minecraft games is present on the site
There are mostly the games for the development (like 'Paper Minecraft' or 'Mine Blocks') but there are also tower defence games ('Minecraft Tower Defence 2') and even cop-centered one.