Moto X3M Pool Party : how to play this free online game? Do you love cycling sports? Maybe you even watch games on TV where the bikes get most of the attention and do magnificent stunts. You wish and hope that one day you can do the same... Now times have changed, with the development of free online games , which allow you to feel literally everything! Being a motorcyclist is one of those direct possible options. And this you can now experience with the free online Moto X3M Pool Party game . So how to play ? You have 4 arrow controls to control the cyclist: up, down to increase and decrease speed accordingly, and forward/backward to position the bike in the air. The task seems simple at first glance: move as fast as you can to reach at least as many stars out of 3 as possible. And stay alive by properly aligning your bike relative to the slope of the terrain you're in contact with. Considering that you move quite quickly, a good reaction speed during the game is a must, as you never know which slope you will land on in the next few seconds. Additionally, there are numerous exquisite pieces of terrain that can lead to a rider's death, such as a glass floor. Still don't feel like playing is too hard for you? Then consider the presence of spikes of all kinds that also want to kill you. Your objectives in each level are: • complete the level • survive • try to spend as little time as possible.
To controll Moto X3M Pool Party game, use your keyboard and mouse if you play it on your Desktop. Or simply use your finger if you use your mobile phone or tablet.

Moto X3M Pool Party is an online game, you need to be connected to the Internet in order to play it. Moto X3M Pool Party is an HTML5 game, which means that all you need is a browser of any of your devices. 100% supported devices.
Game's category: Simple Games
Times Played: 98 778
Votes: 363
Game Rating: 78%
Age restriction: For All Ages
Game Tags:
Screenshot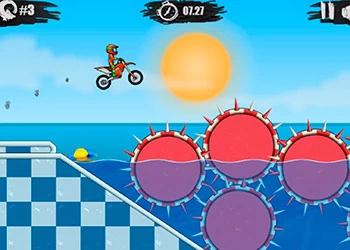 Play
Similar games: