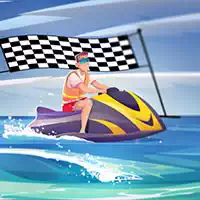 What are Boat Racing games?
Have you always loved speed? Do you love water too? How about combining these two in the super fun subgenre of Boat Racing games? Playing these, not only you will be able to rush on the water surface on high speeds, entering the sharp turns and avoiding collisions with twists of obstacles lines but also will be able to discover that the indicated subgenre is far more than that. There are:
- amorous games like 'Love At The Lake', where you make a girl kiss you on the water surface
- fishing from your boat – this requires patience and selection of proper fishing tackles depending on what type of prey you want to catch
- transporting the animals or people in the calamity like in the game 'Penguin Panic', where you have to rescue those little frightened creatures from an islet to the big land. Or even as a 'Carrot Rescue' – save your loved carrots
- docking the ship right – sliding between the pixels of obstacles like in 'Dock It' or 'Park My Boat'
- finding treasures, like in 'Treasure of Cutlass Reef'
- or even finding yourself playing for an hour in completely silly (but so entangling) game as 'Paper Boat Blowing'.

Features of free online Boat Racing games
- the subgenre is very developed and big, offering many games for all tastes, starting from slow to very agile where a part of a second matters
- for ones who want to try their skills on flowing water, there are online free games where they have to park flowing boats considering that the water isn't a solid surface and thus, every boat has inertia that needs to be skillfully governed (try, for instance, 'Ship Navigation', a thing with primitive graphics but fun physics, which is not as trick-less as it may appear from the beginning)
- the main thing in Boat Racing games is physics of flowing water, where it is hard to navigate – so many moments can be spent playing those.