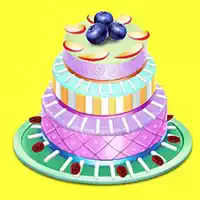 Play cooking Cake online
Cake games are not only about cooking it. It can also be:
- decorating already existing one
- preparing another bakery, not just cake – those can be muffins, cupcakes, brownies, candies, wedding or other festivity option, and everything that is connected to the named
- making it unusual – like from carrot, frozen (which, as you surely think right, is made by Elsa), from salty ingredients to make it a pie, ice creamed or in the certain shape: formed as a home from gingerbread cookies and akin
- training how to do it with specifically elaborated training games, including making it within a limited time
- making a lot of them as you are the runner of a diner or a restaurant and every client has to be served
- buying ingredients for that in a store
- eating it.

Features of free Cake games
Those games are rather simple to play – as they usually have either the same level that repeats for as long as you decide to make different cakes, or it has a little number of levels that differ in hardness of cooking it or a type of cookery you are offered.
This genre is also one of those with a little presence of famous characters – as your personal hero, around which everything is centered, is a cake. Everything other is secondary or even superfluous.