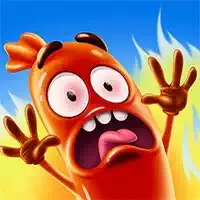 We have over two hundred online crazy games to play for free on this web page so as to make your fun feel endless! In such a diversity of games, it is logical to meet many characters, known to you from other games, films, TV shows, comic books, sports, religion, and general pop culture: Stickman, Bomber man, Disney princesses, pirates, ninjas, Vikings, Shiba Inu dog, Baby Hazel, basketball players, soccer players, Among Us, zombies, voodoo dolls, Talking Tom (and characters from his universe, like Talking Angela), Spiderman, Super Sonic, Super Mario, Subway Surfer, Squid Game, Minecraft, King Fu Panda, Tom & Jerry, Angry Birds, and many others.

The nature of free crazy games is often about speed and stunts. That's why you will see so many games with cars, planes, bikes, monster trucks, and other moving vehicles, which show velocity on tracks of various configurations. Zombies are another popular 'crazy' thing, which explains a large number of these games in the catalog as well. It is mostly about shooting them dead but sometimes, it is about another fun activity with them, for instance, stacking (to see the latter, open the game 'Crazy Monster Blocks'). That may be also breaking out from some crazy locations (prison, other planets, captivity of monsters). One of the truly crazy online games is the 'Bartender Make The Right Mix', where you have to mix up the ingredients to make a cocktail so crazy that it would be impossible to drink it (so when a bartender tries it, he burps with a long rainbow from his mouth).

If doctor-connected games are crazy enough for you, then we have them in plentitude, where you can work with nails, teeth, hair, surgery, X-Rays, feet, and other body parts. So don't let the fun stop! Play our free online crazy games right now!