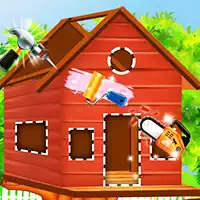 If you live in a house (not in an apartment, castle, cabin, hut, or trailer), you are one of the happiest people on the planet because only about 12% of the global population have their own detached or wall-by-wall house (there are around 950 million private houses on the planet). The rest of the population in all countries lives in other premises, which we enumerated above. And so, if you are a lucky one, you shall probably have a lot of joy playing our online house games for free because they allow making a lot of things inherent to houses:
• painting and decorating them (including re-painting and re-decorating)
• building 'em from scratch, shaping them as you like (for instance, in 'Minecraft' free house games)
• color the pics of houses to express your creativity
• doing the cleaning and throwing garbage
• exploring scary and haunted houses, meeting and avoiding their creepy dwellers
• protecting your house from attackers (this kind of games is called 'tower defense')
• cooking something in a house (which leads to the acquisition of a new skill of cooking)
• flying a house just like in the 'Up' movie by Pixar (the game is called 'Fly House')
• escaping the entrapments (the games to explore this possibility are the 'Little Princess Escape' and 'Gleeful Girl Escape')
• and doing other actions.

To keep our devoted fans sticking with our freely playable house games and other games on the website, we manage to keep updating the catalogs once in a while. Primarily, we try doing that 1-2 times a day but when we have such an opportunity, we make it even more often. Sometimes, games appear on the market rarer and that causes us to slow down a bit with the update of the catalog. But generally, in the course of one year, we add around 100-400 new games to the website in general.