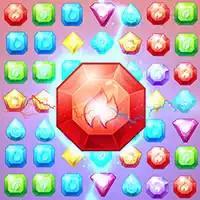 The biggest part of free jewel games is about valuables: gemstones, pearls, semiprecious stones, or anything other that is of value per se or of value for someone particular.

We all know the most valuable gemstones in the world: diamonds, rubies, sapphires, emeralds, and amethysts. But there are dozens of gemstones of lower values but which are still high enough compared to other rocks, so this circumstance allows them to be called precious stones. They include tigers-eye, quartz, tourmaline, pyrite, sugilite, turquoise, hematite, chrysocolla, obsidian, agate, malachite, jasper, lazuli, and others. Pearls that are made by clams or artificially are also included in the jewel notion (although, artificial pearls are rather cheap). The most refine and best pearls are on par in price with diamonds or even costlier. Diamonds, as well as other gemstones, are appreciated by various parameters, including their homogeneity, weight, purity, shape, and chemical content.

The gemstones are processed to be given a shape, which increases their price tag and enables them to become a part of jewelry (when connected with precious metals), the process of which is called inlay or inlaying. In our jewel online games, it is possible to meet all types of gemstones — unrefined, shaped, and inlay. That will all largely depend on the game itself and the exact design, which it has. For instance, refined gemstones are met in many games, for instance, an online jewel game called 'Jewel Academy', as well as in several others: 'Jewel Legend' or 'Jewels Connect'.

The jewel-like objects can be met in a variety of games and these objects can be flowers, hearts, cats, squares, parallelepipeds, fruits, berries, balls… Actually, there are many shapes and we're sure that you'll find one to your liking.