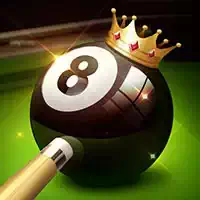 'Pool' is a word with two meanings:
• the pool game, which is another name for billiards
• pool as the reservoir for swimming for adults, children, and animals (plus pets).

We have both types presented in our catalog of online pool games to play. Due to the nature of the gaming industry, the first ones significantly prevail in number. They are designed in many options, which differ in the style of the gaming process, the shape of the pool table, mechanics, the number of levels, and the possibility to play with online competitors or just on your own. The number of balls to hit into the pockets also differs from game to game and can be different within one game as you progress through the levels. The biggest part of billiards games has a high score, which gamers have to reach/beat. But if not, then the games are purely required to pass the levels.

The second category of free pool games is about swimming and having fun on the water. It is possible to find such options of water pool games in our catalog:
• a pig in the puddle ('Piggy In The Puddle 2' game)
• a ball that jumps around the terrain (the 'Bouncy Ball' pool online game)
• splashing the water around ('Gumball Splash Master')
• sports running ('Nick Summer Sports Stars')
• connecting more territories through floating encounters ('Raft Wars 1' and 'Raft Wars 2')
• kicking a puppet ('Pool Buddy' and 'Pool Buddy 2')
• racing ('Fun Race — SpongeBob Saga')
• motorbikes and stunts that are connected to water ('Moto X3M Pool Party')
• partying ('Pool Party')
• kissing on the water (this super pleasant activity is explored in the pool online game called 'Pool Kisses: Summer Love')
• being in an aquapark ('Among Us — Aqua Park')
• diving into a pool while avoiding various dangers, like hungry crocodiles who'd like to eat you when they see you jumping into a pool ('Balcony Diving').
Start playing right now and receive huge fun!