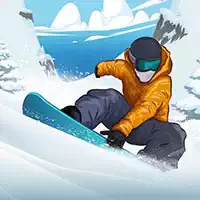 What are Snowboard games?
From all online free games, snowboard games are most of all connected with two major things: attractive people and fun. Snowboard, when rode unprofessionally, doesn't have rules to follow – and even in professional line, the score is only given for tricks. So, it is one of the simplest-ruled games and pastimes that can only be possibly imagined. That's why, just as surfing, it attracts attractive people. With hot fancy bodies. This is one of the basic reasons why it has so many dress-me-up games. And even if you fall (in the real life), the snowboard is largely simpler than skis with much lower possibility to break yourself.
For lovers of the topic but haters of skiing the snow (if you are such a rare player), there is a possibility to avoid boarding itself being engaged in different processes: drawing the picture of a snowboarder in various colors or to become a little penguin collecting falling stars (and avoiding obstacles) amongst the other derivatives.
But sure, the main topic is definitely what you've been searching for in this game – riding the snow on the board. You can do some tricks, you can ride with a huge speed jumping over and swiveling over the obstacles.

Features of free online Snowboard games
- the fun and the ultimate goal is to go as far as possible – and/or – to collect as many points as possible before you lose your last life (if you have them more than one, which is usually untrue)
- riding snow is really fun – and if you consider otherwise, you shouldn't play free online snowboard games.

Fun with online free Snowboard games
'Ben 10 Snowboard' is 'bout classical gameplay – jumping from the trampolines, avoiding stones as scattered obstacles, collecting power-ups as score givers, and making tricks once in the air.