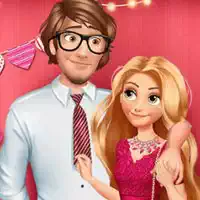 Valentine online games mostly depict the holiday of Saint Valentine, which is known to be the celebration day of all people who are in love. It is a common holiday for couples in many countries (at least, in those, where the Christian and Catholic religions are widespread). Although Saint Valentine's Day is not an official holiday in any country in the world as of the day of writing this review, it is truly the most famous non-official celebration so far. We believe it is so because it touches the love and hearts of people in love. And love, you know, is the most powerful feeling in human lives and the main driving force for many deeds, which people do every day. There are such types of love:
• romantic love
• love of a mother and father for their children
• love of a child for its parents
• love for siblings and relatives
• love for other people, which is often expressed in friendship.

It can be said that our free Valentine games online have several types of love mentioned above and we'll keep working on the expansion of our games to make them cover all sorts of love said. However, already now, you can find games showing the love of parents to their children and of children to their parents in other chapters of our gaming catalog. For instance, it is shown in such games where a child bathes and a parent grooms a child. Or when it is time to visit a doctor.

Although our freely playable Valentine games are mostly about love between people, we also have here cute animals, including birds, pandas, dogs & brown bears. And even geometrical figures — like balls. The latter is manifested in a cute game called 'Love Balls Rescue'.

Additionally to the romanticism of the event, you can try playing games, which aren't directly about love but which operate with love items: hearts, flowers, smiles, and apparel. Examples of such online Valentine games to play are 'Hearts Match 3' and 'Valentine's Mahjong Deluxe'.