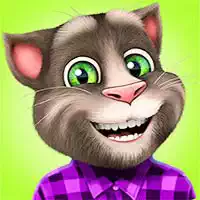 Talking Tom
Talking Tom is a part of a broader universe of Talking Tom and Friends, which was released initially in 2010. It is developed by a Slovenian video game developing studio for Android and iOS devices. Taking the entire universe of Talking Tom Friends, it is one of the world's most popular gaming franchises, which has been downloaded collectively over 12 billion times up to mid-2021. My Talking Tom app published in late 2013 today has between 0.5 and 1 billion downloads alone (the PlayMarket doesn't reveal more exact numbers of downloads). The collective first billion downloads were reached in June 2013.
Today, only three game apps for Android have more downloads than My Talking Tom: Subway Surfers, Candy Crush Saga, and Pou. What's interesting, Talking Tom is designed based on the similar idea that the Pou character explores, which, in turn, is based on the Tamagotchi game, in which a user had to take care of a virtual pet. Although Talking Tom appeared in 2010, Pou appeared in 2012 – so the Talking Tom does not actually have Pou's influence, it's just both games explore the idea of Tamagotchi, in their own different ways. Talking Tom utilizes the gaming approach, while significantly improving it in everything, starting with the appearance and behavior ending with the internal currency of the game and the availability of small games within the basic game.
Despite having the same name as the feline character of the Tom & Jerry cartoon series, Talking Tom is not connected to this character (well, maybe only their basic colors coincide). But for sure, both characters are named as Tom only because it is conventional in the English language to name male cats as toms.
Talking Tom description and gaming mechanics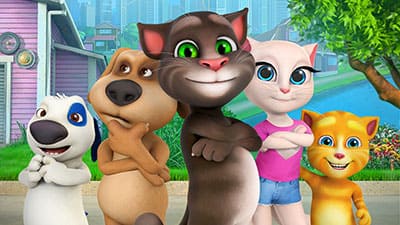 Talking Tom is a cat with large white eyes that have large green-and-black pupils, white lips, eyebrows, gray color of the fur, and nearly white color of the belly. Also, the inner part of his ears is colored in medium pink. He has small claws on his paws, and human-like teeth. He is able to:
• talk to a player (by saying own phrases and by recording the words of a gamer up to 25 seconds long and giving them back in an enhanced tempo thanks to a voice modulator)
• take bath and go to a toilet
• eat food
• brush teeth
• react on touches of a gamer and to the changes of him and around him
• be a part of mini-games playable within the main one
• do various sorts of actions following the commands of the user, like showing claws, taking on a smartphone, read, etc.
A player has to interact with Talking Tom: feed him, clean him in a bath, allow getting him to the toilet, and buy various merch for the cat to dress him up and update the dwelling he lives in. Users see a child Tom after the first start of the game on the tablet or smartphone. He has to grow through his years, turning into an adolescent first and then into an adult tomcat. He does not die when he's grown up to the max – he simply lives on.
By playing small games with Tom's participation, a player collects the internal currency, which is exchangeable for in-game purchases. Also, a player is free to use real money to buy the in-game currency. Using this, it is possible to alter the Talking Tom's look, the house he lives in, to build a new house, and to open the skins, as well as doing other in-game purchases like food (which he cannot live without).
Small games are various and may change from one game to another. For instance, there are an endless runner, ball shooter, and pile stacker, amongst the rest.
There is also a multiplayer, in which a gamer can meet Talking Toms of other players, estimating their appearance and name (by hitting likes). It is possible to make limited actions with them (like tickling, hitting, and stroking) but those things are done better with your Tom.
Since it is official that Talking Tom's birthday is August 18th, this makes him a Leo. According to astrology, the birthday defines people's characters. Although Talking Tom is not a human being, this explains why he is humorous, positive, and enthusiastic.
Versions of games of Talking Tom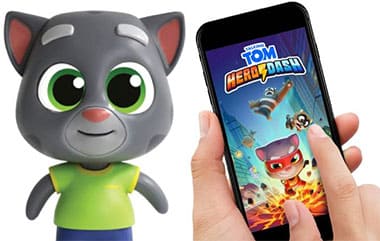 Since 2010, there were released many other games, most part of which features new characters and NPCs. There were released 29 official games, including the second versions of some most popular games, as well as representing specific activities of the heroes, which were not present in the previous games:
• sending and receiving love letters
• bubble shooter
• gold run
• color splash
• pool
• jet ski
• candy run
• cake jump
• funfair
• hero dash
• splash force and others.
Bubble Shooter, Gold Run, and some others later became a part of apps as mini-games.
Characters of Talking Tom Friends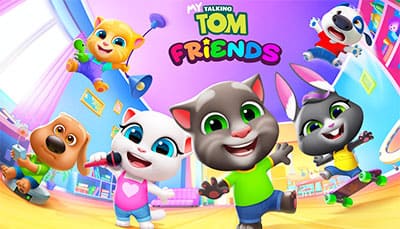 Talking Tom was initially the only character of his universe but the creators have added a large list of other characters with time. Some of them are still playable and available to download in their apps, others have become obsolete.
Talking Tom is Talking Tom, the main playable character in the large game and small games within the large game.
Angela (A.) – a white-furred girlfriend of Tom, with large eyes and high mannerism, playable, fun, and not so rough in behavior as Talking Tom. She is a flagship second player in the Talking Tom Friends universe.
Ginger is a ginger-colored cat, who is implemented rougher as Tom, has ruder manners and behavior. Basically, he does all the same things that Talking Tom can do and only differs from Talking Tom with the appearance. He is very mischievous and is conceived as the Talking Tom's neighbor.
Ben is a brown-colored dog. He seems much more solidly behaving and educated than all the previous named. His feature is science, particularly, chemistry experiments, which sometimes lead to booms and blasts.
Hank is a white dog with several blue spots on his body. He is a roommate of Talking Tom and he loves to watch TV.
Becca is a gray rabbit and she loves to sing (obviously, repeating A. in this passion). They would make a great duo!
Gina is a giraffe, who only made a few appearances in the Talking Tom Friends but she is no longer a playable character, the same as it is impossible to download apps with her. She appeared in web series as well.
Pierre the Parrot appeared in the TV show.
Larry is a talking bird having several apps centered on him.
Raccoon is a recently featured character with brown fur, a white muzzle, and a large wide smile, making it obvious he is a cheerful and mischievous guy.
All the mentioned characters are mainly anthropomorphic, with un-proportionally large heads and eyes and small extremities. But that makes them even more likable and similar to plush toys.
Films and television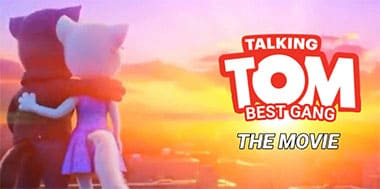 The dedicated web series was launched in 2012 being produced by Disney and hosted on YouTube. The web series features 10 episodes. Each piece is around 3 minutes long.
The TV series was far longer than that and it has today 151 episodes in 5 seasons. The voice actors have Colin Hanks as the star (a son of Tom Hanks). Each season includes from 26 to 52 series and has been airing since 2015 (ongoing). The series has average likability among the audiences with a score of 6.3/10 on IMDB.
There are 8 mini-episodes connected to the TV series, which were aired in 2015 and 2016.
Talking Tom Shorts is another YouTube-published web series, which has been releasing from 2014 to 2018 (season 1). Each webisode lasts from 49 seconds to 10 minutes 37 seconds, with the biggest part of them having the running time from 1 to 2 minutes. Season 2 started in 2019 (ongoing) and has a significantly longer airing time – from 8 to almost 20 minutes.
Talking Tom Friends mini-series (a.k.a. 'Minis') started in 2016 and lasted until 2018, having from 2 to 4 minutes in length. Generally, 59 episodes were released. Then, the Minis were continued with Talking Tom Heroes in April 2019 and lasted until the end of 2020. There were 40 episodes in general, each having from 6 to 33 minutes of the runtime.
Talking Tom has inspired a film called Nine Lives starring Jennifer Garner, Kevin Spacey, and Christopher Walken (2016). You can see the advertising of the film on YouTube by finding it by the name 'A message from Jennifer Garner and Talking Tom'. It is a part of Talking Tom's Shorts. However, Talking Tom does not take part in the film, he only serves as a promoter.
In addition to all mentioned, there is much fan-created content, especially on YouTube, where they share the unpacking videos of their merch, share thoughts about the gaming process, and discuss the Talking Tom Friends otherwise.
Other games, including simple ones
The universe of Talking Tom Friends has not only official games but also unofficial ones, including those that aren't about telling the mainline of official games. They can feature absolutely various things and principles of gameplay and include such directions:
• runners, endless and level-based
• color-ups
• find hidden objects (eggs, stars, etc.)
• dress-up Talking Tom and A. (including the options of changing the hairstyle)
• when simple online games feature both Tom and his romantic interest, Angela, they are doing things as regular couples in love do: hugging, kissing, going to a picnic or a beach to have a small vacation, having romance, going to the cinema, engage, and get wed – that's before they make babies in the future
• explore the couple as they marry and have babies, see them growing, bathing, fed, change diapers, and do other connected things to paternity
• visiting doctor's (from exploring skin and teeth issues to making surgeries and dealing with bone fractures, not forgetting to explore A. in pregnancy, as she is pregnant in some games with 1 or 2 small kittens, which are copies of their parents)
• make a new house for Talking Tom and/or for A. and other characters of their universe, or change the interior/exterior
• making various foods, including sweet ones
• trying on various holiday apparels like Dracula
• outdoor activities, including going to some secular events like a prom, ball, important evening, to celebrate Xmas…
• doing practical things, which are of especial importance for kids, like learning math
• collect jigsaws with characters of the Talking Tom Friends universe
• in some online free games, Talking Tom is placed in the position of Ben (the dog) who loves to make chemistry experiments, but now Talking Tom is doing them to change appearance, gain the ability to fly or have super strength, or even die out to resurrect in a short while
• flappy Talking Tom: in this sort of game, he has to fly through the protruding pipes, avoiding hitting them. This is not so easy to do as he tends to fall swiftly and tapping the screen or clicking with a mouse raises him in a sharp trajectory. The golden medium will allow flying for a while until he inevitably bumps onto something.
Toys and other merch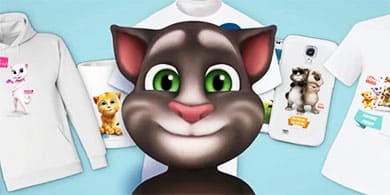 Official and unofficial merch for popular gaming and film characters are considered the norm. In the case of Talking Tom, this is also reality. The list of all kinds of merch with symbols and characters of the universe of Talking Tom Friends is as follows:
• stickers
• notebooks
• T-shirts and short sleeves for adults and children
• facial masks
• pictures, paintings, and posters
• hats
• socks
• bags
• badges
• mugs
• birthday stickers
• pillow and blanket covers
• soft and plastic toys (some of them react to touches and can repeat the voice in the same manner as it is implemented in the gaming software)
• cakes and cupcakes made by request
• clipart
• dolls, figures, and figurines
• wallpaper to put on real walls and as screen backgrounds in various devices
• glasses
• hoodies
• book covers
• hardware tablets with buttons for the smallest children (not having any software, simply several voices and sounds pre-recorded).
Information about Outfit7 Company, Talking Tom's maker
The company started in July 2009 in Ljubljana, Slovenia (a country in Central Europe). The initial number of employees was just 8 but today, it employs 350 people in 7 operating offices in Europe and Asia, having the last reported annual revenue of $130 million. Today, the company is not an independent developer anymore – it is owned by Zhejiang Jinke Peroxide Company of China (later renamed to Zhejiang Jinke Entertainment Culture Co. Ltd), which acquired it for $1 billion.
The company's first creations were not successful and the Talking Tom app was their fourth invention only, released in 6 months after the company's organization. Today, the company primarily focuses on Talking Tom Friends as its biggest hit. However, the company also creates some other apps, which are significantly less popular. The company's biggest hit after the Talking Tom Friends is the Swamp Attack – the tower defense type of game released in 2014 (being updated at times ever since). The Swamp Attack has over 200 million downloads. Another app, a near copy of the Swamp Attack, called the Swamp Attack 2, was released by Hyper Dot Studios Limited, another production company.
Today, both main founders have left Outfit7 Company.