What is Robbie online game and how to play it? Robbie is a small robot with a nice character, who can be compared in his naivety to that of a child. She likes simple happiness in life, like living in herself, being able to move around, cleaning with fresh liquids, and being able to collect things. Collecting is what the game is mainly aimed at. The gist is this: At the beginning, a malfunction is happening in the robot factory and Robbie must handle this, completing levels by gathering things. The ultimate goal is to collect all 4 flash drives to repair the processor. Passing through, a player will not only have to think where to click and in what sequence, but will also engage in: • solving puzzles • removing obstacles • collecting gears and little robot-helpers, which might be hidden in unexpected places • jumping and falling sometimes • avoiding traps and mechanisms that can push or damage • adding cool new things to your robot, like an antenna, for example, to remotely control some things. If we think about it, the game resembles Disney's animated movie Wall-E, but we can't explain that feeling. It is so intangible that if you just looked at it and played this free online game , you can easily put them together. As they say, 'it's up in the air'. Perhaps, it is the same friendly atmosphere of a seemingly cold and lifeless place like the robot factory here and the waste planet there. Maybe, he's a super cute lead in both cases. Maybe it's the way they both drew. But maybe it's those three together at the same time.
To controll Robbie game, use your keyboard and mouse if you play it on your Desktop. Or simply use your finger if you use your mobile phone or tablet.

Robbie is an online game, you need to be connected to the Internet in order to play it. Robbie is an HTML5 game, which means that all you need is a browser of any of your devices. 100% supported devices.
Game's category: Adventure Games
Times Played: 7 339
Votes: 134
Game Rating: 76%
Age restriction: For All Ages
Game Tags:
Screenshot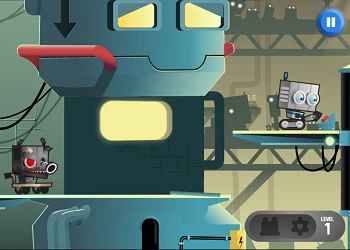 Play
Similar games:
Game Comments:
Who is better?
talking_tom
spiderman