Find out more about The Fishercat Online game This is one of the quietest free online games we have ever come across. Well almost all fishing games are like that. The feature of this game is that eventually, the round ends no matter what you do. So a player needs to be as efficient as possible within a level. The things to do in the game are as follows: 1) There is a cat with an oxygen reserve indicated as 100% at the beginning of a round, and that cat goes down into the water below its surface which is full of splendid fish. that glide languidly on the water stratum. From now on, the oxygen level drops step by step, no matter what. 2) When the cat reaches the bottom, he has a harpoon to launch and catch some of those fish. The more you catch, the higher the score. 3) To get help with this, there are three possible thrusters, but you also need to catch them with a harpoon as they slowly fall into the thickness of the water. The first is a lure for the fish to pile up in one place (to make it easier to harpoon them). The second is a net to catch many fish with a quick shot with a slingshot. And the third is a pump that immobilizes the fish in a motionless position for a while. 4) You also collect gold coins, for which you can buy upgrades in the game store to improve your game . You can upgrade an existing harpoon for a small cost (at first) or buy 5 more types of powerful weapons that will be faster and able to catch more fish in one go.
To controll The Fishercat Online game, use your keyboard and mouse if you play it on your Desktop. Or simply use your finger if you use your mobile phone or tablet.

The Fishercat Online is an online game, you need to be connected to the Internet in order to play it. The Fishercat Online is an HTML5 game, which means that all you need is a browser of any of your devices. 100% supported devices.
Game's category: Action Games
Times Played: 73 278
Votes: 59
Game Rating: 92%
Age restriction: For All Ages
Game Tags:
Screenshot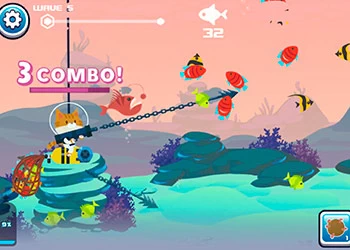 Play
Similar games:
Game Comments:
Who is better?
plants_vs_zombies
paw_patrol