Zombie Killing Spree is an arcade shooter whose goal is to kill all the zombies moving towards you. One player acts as a brave soldier, who has a special task from the mayor. Now you must exterminate all the undead that walk through the graveyard. He constantly walks the path with the gun, which fires automatically. You cannot change the frequency of the shots, but you can choose the correct direction by clicking the mouse. You must eliminate all the monsters and not let them get close to the protagonist. One mistake, and the game is over. The weapon reloads right after the last bullet, and this action takes some time. Be vigilant and slow down so as not to meet the enemy with your bare hands. After passing each level, you have the opportunity to choose one of three upgrades. Think about it, because they all influence different characteristics. Thus, you can increase the speed of movement, improve the level of health or develop the weapon. After completing all levels you get a new weapon. The levels get more and more difficult, there are more and more zombies. The area is covered by the fog of war, so you can't see where the next undead will come from. Watch your ammo and don't get stuck in the corner.
To controll Zombie Killing Spree game, use your keyboard and mouse if you play it on your Desktop. Or simply use your finger if you use your mobile phone or tablet.

Zombie Killing Spree is an online game, you need to be connected to the Internet in order to play it. Zombie Killing Spree is an HTML5 game, which means that all you need is a browser of any of your devices. 100% supported devices.
Game's category: Action Games
Times Played: 14 518
Votes: 190
Game Rating: 69%
Age restriction: For All Ages
Game Tags:
Screenshot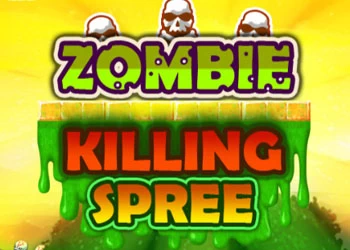 Play
Similar games: