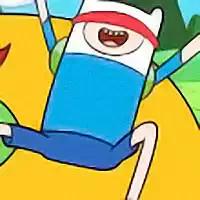 Adventure Time is an animated TV series, a cartoon that has 10 seasons and over 280 episodes as of the time of writing this text. It was released in 2010 and ended in 2018, with two follow-ups ('Adventure Time: Distant Lands' and 'Come Along With Me'), a spin-off (Fionna and Cake), and a related series (Random! Cartoons). This cartoon has become popular among kids of all ages because of the fun heroes and the short running time of every series (11 minutes).

The heroes are a boy named Finn and his dog Jake, which appear not only in this TV show but also in a series of related media, which are Adventure Time online games, comic books, and other books. Once, it was even proposed to make a full-length film but the plans did not happen to turn to life.

Adventure Time has a large list of various nominations (78) and wins (24), including such well-known as Annie Awards, BAFTA, CCA, Emmy, ATAS, TCA, and various Kid's Choice and Teen Choice events.

Currently, there are many video games developed with the inclusion of the characters of Adventure Time but not all of them are Adventure Time games online. They were released for numerous gaming platforms, including PlayStation, Nintendo, Xbox, MS Windows, iOS, Oculus, HTC, and various VR devices. Although there are no games to play on Android as apps, the Adventure Time games are available on this operating system when a gamer enters our website with those games.

This category occasionally includes other games themed as adventure (which is a separate notion from Adventure Time as a trademark). They typically include actions, which are required for characters to engage in various adventures (running, riding, jumping, swimming, hunting, and unriddling the riddles).