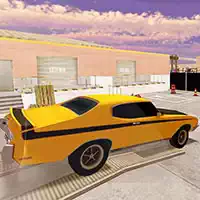 Tuning cars is one of the beloved exercises and businesses of many people around the world. Imagine how cool this or that car would look after you make its tuning, upgrade, and visual refinement of the appearance, engine, wheels, and so on.

Some of the car tuning games are designed with only one goal: to make a car as cool as it can be, boiling down to the actions of perfecting it and that's it. Others are designed with additional actions, like racing and winning to obtain the necessary gaming currency to make the tuning. As for us, the second type of car tuning games in car tuning is more fascinating because such games are also connected with the adrenaline of racing, the striving for victory, and the joy of overcoming your competitors.

During the process of playing, you will be able to deal with a number of different cars, including regular racing models (as is the case in such games as 'Mini Rally Racing', 'Miami Super Drive', or 'City Car Driver'), monster trucks (try the game 'Extreme Impossible Monster Truck'), and concept cars, which are rarely seen on the roads because the concepts barely ever make it to the streets (like in the game 'Concept Car Stunt').

In addition to racing for speed and winning, there are also options of drag racing for drifting stunts or simply doing various stunts on track, which include jumping, overturning, and even flying — these are such online car tuning games as 'Mega Ramp Car Stunt Race' or 'Fly Car Stunt'. In the latter, not just a regular but flying car is used, which elevates the coolness even farther, to the heights that are unimaginable for regular cars. That's a real shtick to try!

We're sure that playing these games will make your pastime perfect. And the fact that we add more games every other day will make you very thrilled!