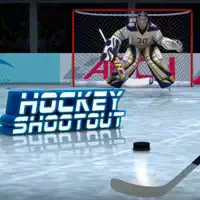 What are Hockey games?
Hockey is basically divided into two: air hockey and a regular one. Air type is the one played on a table and it has long ago derived from the real hockey (incorporating in self all possible simplifications to make the game swift and adrenaline-filled). It takes two players, a puck to hit with a striker and the agility of reaction. Not only it requires the speed of movements and thoughts, but in the real life, it is often connected with cheered support from your friends (and booing by the friends of your opponent) and the hot desire to kick his ass. In online free games, air hockey has left only the agility of reaction and moves of fingers. But is it still fun? Hell, yeah!
As for the regular hockey, there is a huge probability that you will control not the entire team of players but only some main dude (as a rule, puck keeper) and will try to overcome your opponent, the same single-manned. Very simple and effective to spend some spare minutes of your life.

Features of free online Hockey games
- simplified gameplay compared to the real-life game of hockey
- a need to a have the nice speed of reaction and knowledge of physics of motion – to make a prognosis on the movement of the puck not to allow it into your gates, pointing it right towards the gates of an opponent
- agility of fingers
- an easy possibility to kill some spare time.