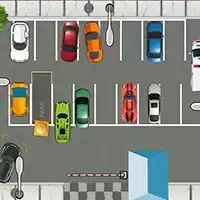 What are Parking games?
These aren't about parking almost always. Rather, they are about precise riding, where millimeters on the screen decide if you succeed or fail. This can be about going through levels on a funny and amusing car (like in 'Wheely 6 Fairytale') or exiting a parking lot veeeeery carefully (like in 'Carbon Auto Theft' – if you don't do it well, the police officers gonna nail you in a second), or the very famous GTA 5 (we were pleasantly amazed that Grand Theft Auto was eventually presented as a free online clicker). So how come these online free games aren't named as "Precise Riding"? Well, first of all – because almost every subgenre of free games on our site is characterized by one word, not two. Secondly, because we personally think that Parking games sound far better than Precise Riding games. Do you agree?

Features of online Parking games
- you really have to use your accurate eye playing Parking games as even one superfluous millimeter can ruin the level
- always pay attention to how much pushes of keys on a keyboard you use – one extra can bring you defeat, not the planned victory
- these games are more about calmness and tranquility in the gaming process rather than rage, rampage, and adrenaline of shooters, zombie hunters or escapers, so they really have own audience, which isn't wide.

Fun with online Parking games
It's not that much-concentrated fun when it comes to Parking games unlike other active genres may offer. It is about physics and really good possession of your eye accuracy. However, if you admirer of such – unlimited fun guaranteed!