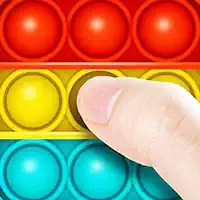 Relaxing is the biggest and main purpose of most games on the Internet. We do understand that some games are specifically made very complex and that contradicts relaxation and requires tension and focus instead. But when you open the catalog of free relax games, nothing here is going to strain you.

So, in several dozen relax online games, you'll find such options of pastime:
• playing the most relaxing options of cards, for instance, 'Solitaire Classic Christmas'
• finding the pairs of fruits and veggies ('Find Pair')
• washing objects and putting paint on them ('Power Wash 3D' or 'Littlest Pet Shop Coloring Book')
• combining numbers and objects into shapes to pass the level or reach some large end goal ('Join Blocks' or 'Wood Block Puzzle')
• collecting jigsaws, all of which are composed of a very little number of pieces so as not to make you angry during the gaming process ('Elsa Jigsaw Puzzle' or 'Tangramz!' freely playable relax games)
• playing billiards
• untangling the tangled objects ('Knots Master 3D' or 'Sort The Bubble — Puzzle Game')
• running a maze, which would require a gamer to fill in the gaming field with letters or numbers ('Number Maze Puzzle Game'), and others.

In the mentioned games, you are able to find several recognizable characters from the popular culture, for instance, Elsa (the Disney princess from 'Frozen'), Pokemon, Spiderman, Among Us, Adam and Eve, Squid Game, Ladybug (which is commonly named in various online games as the Dotted Girl), Stickman, or Angry Birds. Many games do not have any separate hero (simply because their gaming mechanics does not presuppose it), the same as they might have someone or something as a hero specifically designed for this or that game, so you'll learn some new names and faces (like a Cook in the 'Super Candy Blast' or cute triangle-shaped slimes in the 'Slime Rush TD' online game).