Garfield's Scary Scavenger Hunt 2: Donuts of Doom is not only a great sequel but one of the best free Garfield games you can play online for free. Garfield is once again trapped in a haunted house, and it is your job to help break him out!

Scary Scavenger Hunt 2 Gameplay
When you start Scary Scavenger Hunt 2, you're greeted with a cutscene that sets up the game. Garfield is familiar with this dark and spooky location. He is once again trapped in a haunted house and needs help getting out. You need to help Garfield look everywhere to collect seven packages of donuts that are hidden in the house. However, you do not want to click on everything. If Garfield gets too scared, then you lose the game.

The controls for Scary Scavenger Hunt are easy. You use the arrow keys to help Garfield look around and move from one room to the next. The mouse is used to click on the items in the room to either interact with them or pick them up.

While this sounds easy enough, you do not want to do too much clicking. The more you interact with the room, the more you put yourself at risk of interacting with an object that will increase Garfield's fear bar at the bottom of the screen.

There is a list of donuts you need to collect that is displayed on the left side of the screen. The Scare-O-Meter at the bottom fills up every time you click on something that scares Garfield. That is why you only want to click on things that are holding donuts, but they are not obvious. There are puzzles you can solve along the way as you escape from the mansion with all the donuts. Look at the following tips for Scary Scavenger Hunt 2.

Scary Scavenger Hunt 2 Tips

● Do not click on everything! The last thing you want to do is start over. However, you are not going to know where all the donuts are. Make a mental note of what you clicked on during a previous play through.
● You might not win the first time. Do not worry if you do not clear Scary Scavenger Hunt 2 the first time around. The game is meant to be replayed. Learn the dark secrets of the mansion and see everything you can before you beat the game for good.
● Collect all the items. You will see the items on the right: Matches, Bone, Newspaper, Pin, Key, Remote, and Empty Box.
● There are hints at the top-right if you get stuck. For example, the first tip is "it's very cold, dark, and scary down here!" This gives you a clue that the first thing you should do is look for a light.

Good luck on your escape from the mansion with Garfield!
To controll Garfield Scary Scavenger Hunt 2 game, use your keyboard and mouse if you play it on your Desktop. Or simply use your finger if you use your mobile phone or tablet.

Garfield Scary Scavenger Hunt 2 is an online game, you need to be connected to the Internet in order to play it. Garfield Scary Scavenger Hunt 2 is an HTML5 game, which means that all you need is a browser of any of your devices. 100% supported devices.
Game's category: Garfield Games
Times Played: 1 210
Votes: 21
Game Rating: 81%
Age restriction: For All Ages
Game Tags:
Screenshot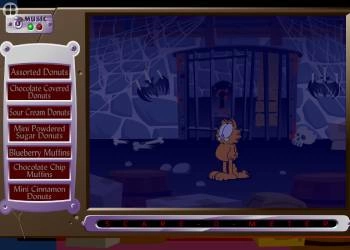 Play
Similar games:
Game Comments:
Who is better?
barbie
plants_vs_zombies