The famous trollface is back in action! This time it's America that's in the crosshairs for some tricky jokes and cruel banter. In Trollface Quest: USA 2, you'll join the group of pranksters and poke fun at America's most famous personalities. Ready to get your jokes on? Then let's do it!

How do you play?
There are seventeen levels ahead of you, where you'll have to make fun of America's cultural and national identities. But be warned, because Trollface's humor is neither logical nor sane. Leave your sanity behind, and delve into the maddening world of trolls. On the first level you'll witness the speech of presidential candidate Mr. Kukuruzkin. To disrupt his speech, you must click on the cloud in the right corner of the game. Then the sun will appear and the candidate will turn into a handful of popcorn.

Next, you'll be making jokes about the current President of America, Donald Trump. He'll be admiring a mini version of the Statue of Liberty, which is in Disneyland. Click your mouse on the president until his hat is transformed into elegant ears. After this transformation, the statue will fall in love with Trump and you can continue the game. You'll have a lot of fun and crazy jokes with crazy trolls who know how to make original pranks. Enjoy the game and good luck!
To controll Trollface Quest: Usa 2 game, use your keyboard and mouse if you play it on your Desktop. Or simply use your finger if you use your mobile phone or tablet.

Trollface Quest: Usa 2 is an online game, you need to be connected to the Internet in order to play it. Trollface Quest: Usa 2 is an HTML5 game, which means that all you need is a browser of any of your devices. 100% supported devices.
Game's category: Trollface Games
Times Played: 2 079
Votes: 22
Game Rating: 68%
Age restriction: For All Ages
Game Tags:
Screenshot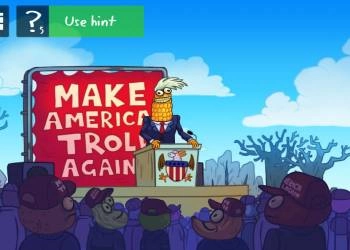 Play
Similar games: