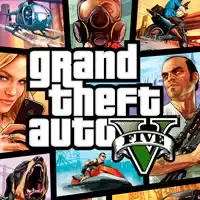 GTA is a video game, which was originally released for personal computers in 1997 (which worked on MS-DOS and Windows). Later, for the years of its development, this game was released for the entire multitude of all known gaming platforms: Android, iOS, macOS, Nintendo, Oculus, PlayStation, Windows Phone, and Xbox. The latest release of another GTA game was just recently, several months prior to writing this description, in November 2021.

GTA has very largely popularized the gameplay of this type, which was already known before its release but not very popular in various games, including GTA free online games. In GTA, a protagonist has to fulfill different assignments, stealing cars and other vehicles to do that. A guy runs around the city, collects money, takes and completes tasks, buys weapons, items, and apparel, hits people, and steals cars (the latter is pretty often via hijacking). It is commonly considered a controversial game because of its violence, neglect of human lives, and low humane values.

The GTA setting happens in various cities, large enough to cover several dozen square miles and even larger: Liberty City, San Andreas, Vice City, London, and a large multitude of other cities and locations. Originally, in this game, it was not possible to move between the cities but later, it became possible.

We have collected under the umbrella of GTA online free games those themed with GTA and similar ones, where you also can use brutality of physical force and do various assignments.

In addition to regular gameplay, GTA games to play online presuppose other actions: coloring pictures, collecting jigsaws, and running or riding through levels for speed, points, or fun. Most games have cool cars in their interiors and are very attractive to gamers exactly because of that.