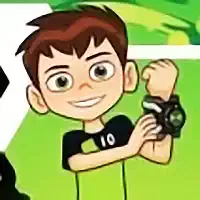 The description of Ben 10 online free games
Who is Ben 10? It is a guy who can transform into ten various species of alien creatures thanks to the semi-magical device called Omnitrix. The boy's name is Ben Tennyson and he acquired the device thanks to a lucky coincidence. Now, as he knows its power, he can do various tricks like killing aliens-invaders (as it is in 'Ben 10 Aliens Kill Zone'), running in an under-town full of monsters and other obstacles ('Ben 10 Undertown Runner') or rescuing people (like in 'Ben 10 – Ben to The Rescue').
Depending on the manufacturer of a game, the main hero can be drawn in a different manner. If you explore such online free games as 'Fireman', 'Hero Time', 'New Dress Up', and 'Kill Zombies', you'll see that he significantly differs in each of the named. Although we highlight the most varied ones, you can see for yourself that from a game to game, he changes, only staying the same a few times.

Ben 10: features you wanna know
- this is mostly an arcade that is united by one hero
- if it's not the arcade, this must be something medical (exploring his eyes, nose, or teeth problems) or speed typing
- the guy changes visually – as there are different producing studios that create games about him.

Variety of Ben 10 that we have
Generally speaking, the most part of online free games about him is arcades, added with some part of bow shooters (for eye precision and reaction), medical examinations of the main character (as it became very popular lately to put the well-known heroes into medical examination chambers to have a closer look at their health or its problems).
There are more about this cute active young boy – and you can explore in our catalog on your own.